2017 Chevy Camaro – Naperville, IL
With the 2017 Chevy Camaro in Naperville, IL, you're getting the best of the best when it comes to old-fashioned muscle, combined with modern looks and performance. While other "muscle" cars like Ford Mustangs are now using turbos (EcoBoost) for their primary sources of power, the Camaro is still using naturally aspirated engines to elicit that old-school feel when you step on the throttle. In fact, Chevy is focusing on new performance technology to help give the brand an edge over the competition. Somehow, the company has managed to perfectly pair the two together like fine cheese and wine. Another noteworthy portion of mixing tradition with modern demands can be found in the design, which retains that well-loved muscle car shape, but has been calibrated for enhanced aerodynamics, making it more performance-focused than ever before. The looks? A delight for both new and old (ahem, vintage) hot-rod fans alike.
If it's the perfect modern-day muscle car you're after, the 2017 Camaro is for you.
Powerful Engines
While Chevy isn't relying on turbos for the 2017 Camaro's performance, the base 2.0-liter engine still comes with a turbo to give it that extra oomph needed to keep up with the competition. But don't worry, the V6 and V8 in the more performance-oriented trims still provide that raw and familiar power thanks to natural aspiration.
2.0-liter Turbo
The base trim engine is a turbocharged 2.0-liter four-cylinder engine. This standard engine option lands you 275 horsepower and 295 lb.-ft. of torque. For some, that's more than enough power; others might crave more. Regardless, a Camaro with this engine will return 22 mpg city/31 mpg highway with an automatic transmission. One mpg less on each end when equipped with the manual variant.
Powered by this engine, the 2017 Camaro gets a 0 to 60 mph time of 5.4 seconds (manual) and 5.5 seconds (automatic). Not too shabby for a base-trim vehicle in this class.
3.6-liter V6
Looking for a bit more power? Grab the optional 3.6-liter V6, capable of producing 335 horsepower and 284 lb.-ft. of torque. The 3.6-liter benefits from direct injection, along with VVT (variable valve timing), to help optimize performance. For a peak 0 to 60 mph time of 5.1 seconds, you'll want to pair this engine to the optional 8-speed automatic. With the standard manual engine, the 2017 Camaro does the 0 to 60 mph dash in 5.2 seconds, barely affecting its performance.
As far as fuel-efficiency goes, a V6-powered Camaro gets 19 mpg city/28 mpg highway (automatic), and 18 mpg city/27 mpg highway from the manual setup.
6.2-liter V8
If you're looking for the maximum amount of power offered by the 2017 Camaro, it's found in the 6.2-liter V8. This engine equips the 1SS and 2SS models, and produces a massive 455 horsepower and 455 lb.-ft. of torque. Just like the other engines and corresponding trim levels, a manual transmission comes standard, with an eight-speed automatic the optional choice. Fuel economy (expectedly) drops, and the Camaro gets 17 mpg city/28 mpg highway when mated to the automatic transmission, and 16 mpg city/25 mpg highway courtesy of the manual.
The 0 to 60 mph time? An astounding four seconds flat (4.3-seconds with the manual).
Performance Technology
While the 2017 Camaro does have your typical Chevrolet technology (MyLink, touchscreen, smartphone capability, etc.) it also provides something more. It's loaded with performance technology, that truly takes the ride and experience of driving the Camaro to entirely new heights. And the best part is, not all of this refined technology is dedicated to increasing speed.
Active Fuel Management
While all three engines have direct-injection, active fuel management is found on both the V6 and V8 engines. AFM will deactivate cylinders when they aren't needed, such as during highway cruises or downhill descents, which means less fuel is burned.
Drive Modes
However, it does have performance technology for those looking to step-up their game. The Camaro features four different, selectable driving modes: Tour, Sport, Snow/Ice, and Track (on SS models). Selecting one of these modes helps the 2017 Camaro automatically tailor different aspects of the drive, like the shift/throttle response, traction, steering wheel sensitivity, and even ride stiffness. For added fun, it will even change the lighting ambiance found in the cockpit.
Magnetic Ride Control
Magnetic Ride Control is also found on the SS, and is a real-time dampening system. This means it reads the road every millisecond using radar sensors and calibrates the stiffness of the suspension, accordingly. With magnetic ride control, you're guaranteed a smooth ride on any surface.
Dual-Mode Exhaust
Chevy even made sure to give the dual-mode exhaust a place in this updated suite of performance technology. Drivers can dial-in a more aggressive sound using the driver mode control, by selecting a unique resonance for each of the four modes. While that might not improve performance, it's still a nice touch.
A Perfected Design
From both an aesthetic and engineering perspective, the design of the 2017 Camaro has been fine-tuned to provide the best looks and performance to date. Especially compared to the previous generation's model, which was a lot heavier.
Engineering
Piggybacking on the heavier, yet successful design of the 2016 model, Chevy decided to leave the stylings of its new Camaro relatively unchanged. Compared to the previous generation, this sixth-gen Camaro is built around a smaller and lighter architecture. Meaning it naturally reduces weight, boosting both performance and fuel-efficiency. Chevy also focused on dialing in the aerodynamics during wind tunnel testing. Hours upon hours went into testing the sixth-gen Camaro's design, with every detail accounted for. Whether it's the wider opening and precise draft angle of the grille, the roof's "reverse Mohawk" channel, or even the available lift-reducing stanchion spoiler, it's all been tested and the results prove that this is the most aerodynamic and fine-tuned Camaro to date.
Aesthetics
Even though the design was tested in a wind tunnel for peak performance, Chevy still didn't forget about one of the most important aspects of a performance sedan: the looks. Has it slimmed down? Yes, but Chevy made sure that the alterations made to the design still remain true to what modern-day muscle should look like.
A sleek and angular grille, raised hood, and athletic rear quarter panels are all present. Chiseled slabs of muscle can also be found running across the top, on the back, and along the sides of the vehicle. Even the back of the mirrors are angled in such a way to compliment the overall theme. Lean headlights and a smaller grille give it an intimidating look from the front, and the larger back-end gives it an aggressive and "jacked-up" stance.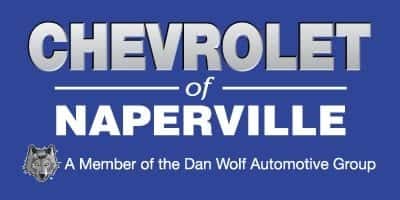 At Chevrolet of Naperville, Your Needs Come First
When you shop at Chevrolet of Naperville, you won't just find the latest and greatest high-quality Chevy vehicles like the 2017 Camaro. You'll get much more than that, like an overall unforgettable car buying experience. Why? Because, Chevy of Naperville is part of the Dan Wolf Automotive group. This group of dealers has been serving customers since 1971, by prioritizing their needs first. Our honest intentions as a dealership are also backed by our determination to give back to the communities we serve. Just one example of this is our commitment to and involvement with the Turning Pointe Autism Foundation, a non-profit dedicated to enhancing the lives of those diagnosed with autism-spectrum disorders, as well as their families. Giving back to our community is our way of saying thanks, but also represents our sustained and sincere interest in those who have helped shape the success of our business.
For a truly great dealership experience, Chevrolet Naperville is the way to go.