Chevy Traverse vs GMC Arcadia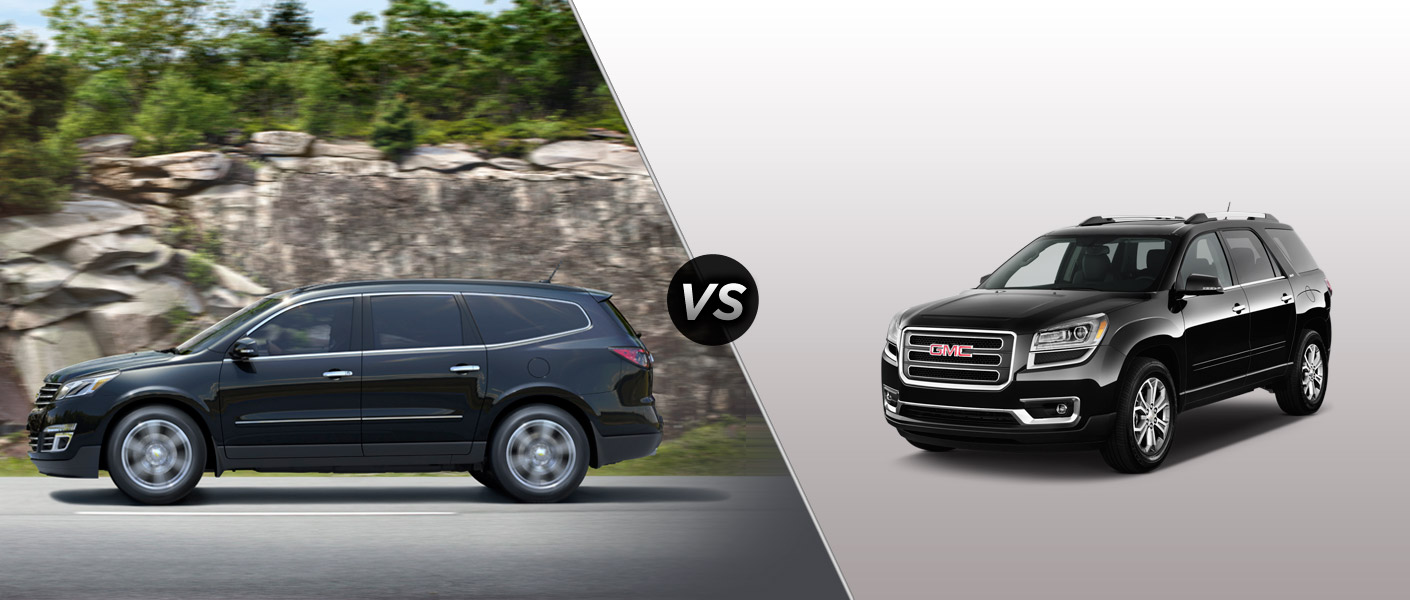 General Motors is the parent company of both Chevrolet and GMC. To that end, it should be no real surprise that each brand produces vehicles that are similar to one another. While each brand does build vehicles using the same frames with varying exterior wrappings, there are some differences, as subtle as they might be. The elephant in the room when it comes to talking about the 2013 Chevy Travers vs. the 2013 GMC Acadia is the price difference. The base trim of the Chevy Traverse has a manufacturer's suggested retail price of $30,510 and the GMC Acadia comes in at $34,050. The biggest difference in the base trims of these two GM vehicles is the exhaust systems. Both vehicles come standard with a 3.6-liter, V-6 engine. The base model on the 2013 Chevy Traverse gets 281-horsepower and the same base engine on the GMC Acadia is rated at 288-horsepower. So what happens to the missing seven-horsepower? The base GMC Acadia has a dual-exhaust system, like the LTZ trim of the Chevy Traverse.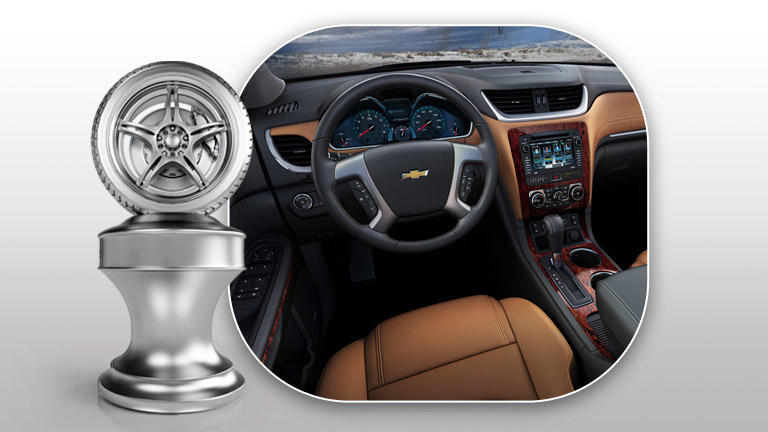 A new car-buyer may be asking themselves what is to be gained for the nearly $3,500 price difference. First, the Environmental Protection Agency fuel-economy rating between the 2013 Chevy Traverse vs. the 2013 GMC Acadia is almost identical. There may be a one mile per gallon difference here or there, but again hardly something to justify almost $3,500. In fact for a bit more money on the side of the Chevy Traverse a potential owner can move up a trim level to the 1LT and come closer to matching some of the extras on the base GMC Acadia and the SUV would still be less expensive. Another big advantage of purchasing a 2013 Chevy Traverse from Chevrolet of Naperville is that you will be treated to the full service treatment that we have to offer all of our guests that walk in our doors. Our experienced sales staff is highly knowledgeable about all of our products and is more than ready to answer any questions you could possibly have.
2013 Chevy Traverse vs 2013 GMC Acadia
The Chevy Traverse and GMC Acadia were both designed with the impromptu weekend getaway in mind. Their combination of comfortable seating capacity and flexible cargo options make these twin production SUVs very desirable. However, you must ask yourself; does the extra expense of the GMC badge translate into a better and more rewarding ownership experience? When compared side-by-side, most people will be amazed how many features are available on each vehicle. Among the features that are shared between the Chevy Traverse and GMC Acadia are: a dual-note horn, a wide selection of cup holders as well as very convenient storage cubbies to make the accessories we need to carry easier to access.
On the upper trims of both the Chevy Traverse and GMC Acadia they both have 10-speaker Bose Stereo systems with 5.1 surround sound. Both SUVs have remotes that will lock/unlock doors. Both feature a rearview camera to aid in backing into tight spaces or whatever the situation may call for. Both vehicles feature tilting and telescoping steering as well and highly adjustable driver's seat for maximum comfort while driving either the Chevy Traverse or GMC Acadia. The similarities just continue from there. Both the Chevy Traverse and GMC Acadia feature smartphone connectivity with Bluetooth technology that will allow you to make and answer calls in a safe, hands-free manner. Both crossover SUVs feature very similar safety features such as six or seven air bags depending on the trim level of either vehicle, both have blind spot monitoring systems and a complimentary six month trial period of OnStar that comes with navigation.
The differences between Traverse and Acadia
For as many similarities as exist between the Chevy Traverse and the GMC Acadia, there are a few differences that may sway people toward one model or the other. Earlier we stated price, the Chevy Traverse will be less expensive than the GMC Acadia when compared on a trim by trim basis. Based on manufacturer suggested retail price, the Chevy Traverse comes in about $2,500-$3,500 less expensive than the corresponding GMC Acadia. The GMC Acadia also comes with a few ancillary goodies that are not available on the Chevy Traverse. One is a heads-up display that projects important information on the windshield in front of the driver like speed and navigation information. Also the Chevy Traverse is a bit slimmer in exterior design, while the GMC Acadia has a bolder look to its outer features with a nod to its GMC truck roots. The result is a bulkier set of handling characteristics for the GMC Acadia. Again, as we talked about before, Chevrolet of Naperville looks forward to serving you and making your car-buying experience with us as pleasant and stress free as possible. Chevrolet of Naperville is ready to help you with financing, determining your credit score and helping you calculate the value of the vehicle you intend to trade in. Our staff full of friendly and knowledgeable sales professionals is ready to answer all of your questions about the 2013 Chevy Traverse.