2014 Chevy Camaro vs 2014 Ford Mustang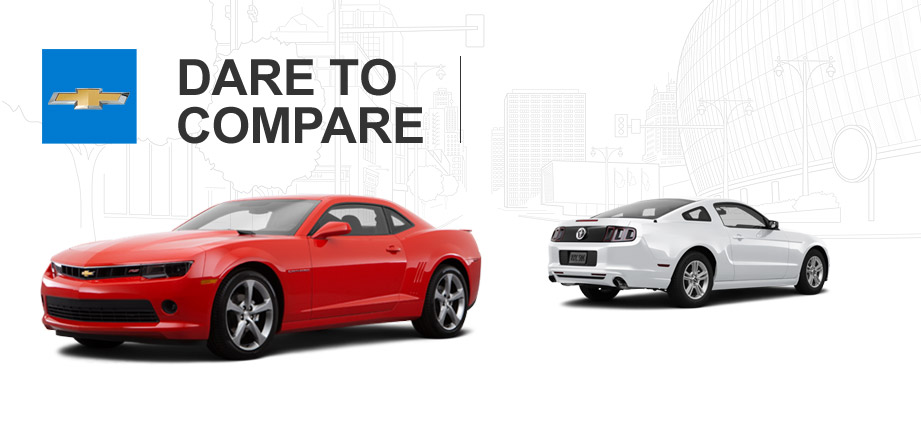 | | | |
| --- | --- | --- |
| 2014 Chevy Camaro | | 2014 Ford Mustang |
| 3.6-liter, V-6 | Engine (base) | 3.7-liter, V-6 |
| 323/278 pound-feet | Horsepower/Torque | 305/280 pound-feet |
| Six-speed manual | Transmission | Six-speed manual |
| 17/28 | Fuel-economy | 19/31 |
2014 Chevy Camaro vs. 2014 Ford Mustang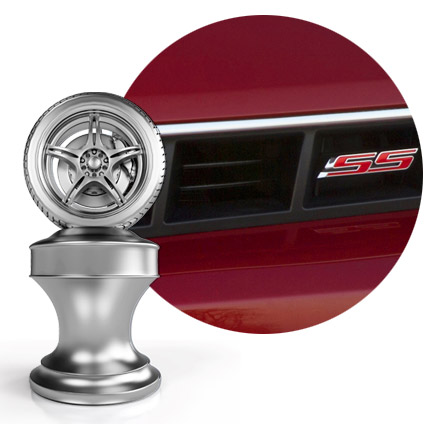 People have been making comparisons of the "Pony Cars" since they were released. This comparison of the 2014 Chevy Camaro vs. the 2014 Ford Mustang is not meant to be a comprehensive breakdown of these two historically high-performance cars. What we are trying to accomplish is to give a basic head to head breakdown of the new versions of the Camaro and Mustang and put our customers in a stronger position to educate themselves on what is available and take advantage of our sales representatives' knowledge.

At the most basic, cellular level, the battle between the 2014 Chevy Camaro vs. the 2014 Ford Mustang comes down to performance, both through mechanical power and through handling ability. Each vehicle has its strong points in these arenas. Both vehicles feature a number of top performance components that can be added on as a customer moves through the various trims and options packages. One thing the Chevy Camaro and Ford Mustang have in common is that both cars offer a level of performance to match almost everyone's budget. High-performance does not have to break the bank..
Base performance scores for the Camaro vs. the Mustang
The base trims of the 2014 Chevy Camaro are powered by a 3.6-liter, V-6 engine that can make a maximum power output of 323 horsepower and 278 pound-feet of torque. This is a fair amount more power than what is produced by the base model of the 2014 Ford Mustang. Under the hood of the 2014 Mustang sits a 3.7-liter, V-6 that will make 305 horsepower with 280 pound-feet of torque. The interior of the 2014 Camaro has scored a bit higher with internet critics than its Ford Motor Company rival. One of the chief complaints about the Mustang is that it only offers tilt adjustable steering and not the tilting and telescoping adjustments found on the Camaro.

There are several trim options for the 2014 Chevy Camaro that will give owners a distinct power advantage over that of the 2014 Mustang. First on the list is the ZL1 package that adds a supercharged 6.2-liter, V-8 engine to the Camaro that has a top power production rating of a blistering 580 horsepower. Next up is the out of the box, track-ready Z/28 trim that has been stripped of every non-essential element, including air conditioning, on its way to 500-horsepower. The Mustang doesn't really start to get serious until an owner has moved all the way up to the Shelby GT 500, where the car has a pretty good power profile.