2014 Chevy Cruze Naperville IL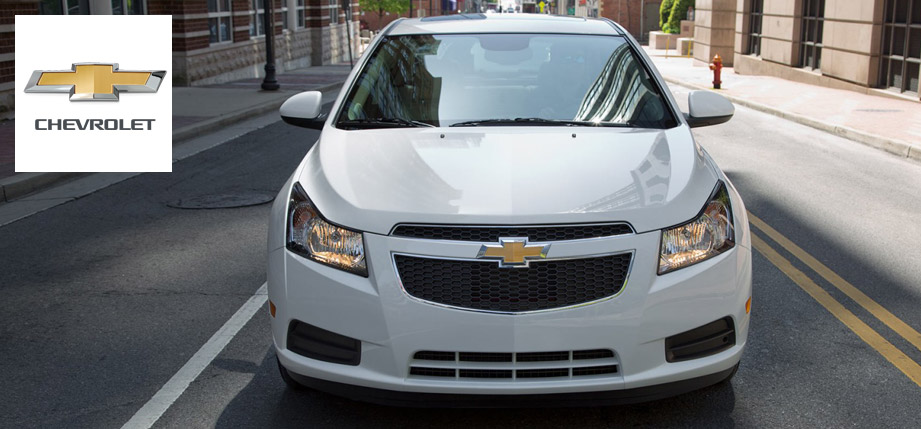 2014 Chevy Cruze near Naperville, IL
Since the Chevy Cruze debuted a few years ago it has really made a strong name for itself in the highly competitive compact vehicle segment of the automotive industry. The Chevy Cruze has built a well-deserved reputation for being a fun to drive and very fuel-efficient compact sedan. The 2014 Chevy Cruze near Naperville, IL that is currently available for sale at Chevrolet of Naperville in various trim options is certainly more than set to continue that tradition.
With a well-appointed interior and an incredibly fuel-efficient powertrain, the 2014 Chevy Cruze is more than capable of taking on the traditional compact car segment leaders from the foreign automakers. The new Chevy Cruze has received more than its share of positive reviews from independent online sources for it comfortable interior that should work well for most drivers and passengers; as well as its surprisingly lively handling and smooth ride characteristics.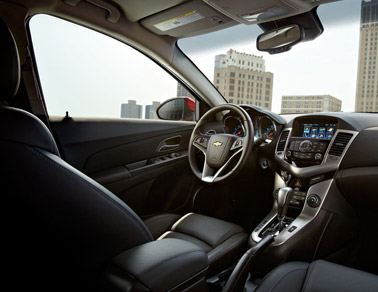 Engine options for the 2014 Chevy Cruze near Naperville, IL
Currently, Chevrolet of Naperville is offering two versions of the 2014 Chevy Cruze near Naperville, IL. The first is a naturally aspirated 1.8-liter, four-cylinder engine that can achieve 25 miles per gallon in the city and 36 miles per gallon on the highway with the standard manual transmission and up to 22 miles per gallon (city) and 35 miles per gallon (highway) with the available automatic transmission according to Environmental Protection Agency fuel-economy estimates.
The other option is the 2014 Chevy Cruze Eco that is powered by a turbocharged 1.4-liter, four-cylinder engine that posts a very impressive 26 mpg (city) and 38 mpg (highway) for EPA fuel estimates. Additionally, the turbocharged engine allows the new Chevy Cruze Eco to pick up speed rather quickly, that can prove to be useful when merging with traffic or having to pass slower drivers. The Cruze Eco's superior fuel-economy also benefits from having improved aerodynamics, over some of its siblings.
Adding value to the 2014 Chevy Cruze near Naperville, IL
While every trim level of the 2014 Chevy Cruze near Naperville, IL is an excellent value from just a performance and fuel-efficiency standpoint, but that would leave out the impressive list of standard features. Starting with the base LS trim, the new Chevy Cruze comes with OnStar vehicle assistance, keyless entry, tilting and telescoping steering, manual driver's seat adjustments and a 60/40 split folding rear seat. In addition to all of that, owners of the new Chevy Cruze will also have a full array of powered accessories like door locks, windows and mirrors as well as a six-speaker sound system that can play CDs or MP3s and has satellite radio capability, a USB port and an auxiliary audio jack.
During the time that General Motors and Chevrolet were developing the 2014 Chevy Cruze near Naperville, IL they took the time and spent the money to test the car in some of the harshest environments our planet has to offer. Chevrolet test engineers took the new Cruze through the unrelenting heat of the Arabian Desert, the engine choking altitude of the Alps and the torrential rains of Thailand. The 2014 Chevy Cruze performed perfectly and that's why GM is offering a five-year, 100,000-mile limited powertrain warranty.