2014 Chevy Cruze vs 2014 Hyundai Elantra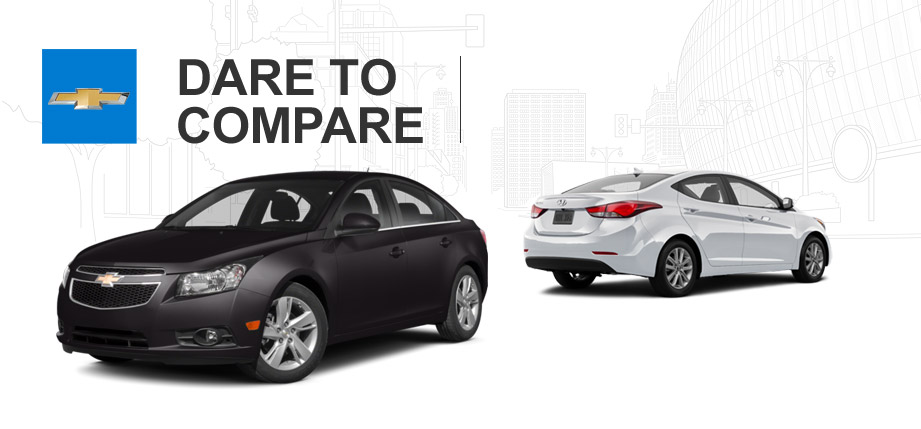 | | | |
| --- | --- | --- |
| 2014 Chevy Cruze | | 2014 Hyundai Elantra |
| 1.8-liter, four-cylinder | Engine (base) | 1.8-liter, four-cylinder |
| Six-speed manual | Transmission (base) | Six-speed manual |
| 25 City / 36 Highway | Fuel-economy (base | 27 City / 37 Highway |
| Available diesel engine | Additional options | Sport model |
2014 Chevy Cruze vs. 2014 Hyundai Elantra
One of the most attractive benefits of compact car ownership is the outstanding fuel-economy almost every model offered by automakers will record. Comparing two of the top models in this class, the 2014 Chevy Cruze vs. the 2014 Hyundai Elantra are both top performers in this regard but have chosen to take two different routes to get there. While there are several similarities between the 2014 Cruze and the 2014 Elantra, the differences are among the starkest in comparing two vehicles in the same class.
Of the concerns several people have that come to Chevrolet of Naperville looking for a compact car, one of the most pervasive issues is cabin space. This is one of the key areas where the comparison between the 2014 Chevy Cruze vs. 2014 Hyundai Elantra starts to swing heavily back toward the Chevy Cruze is the rear passenger area. Certainly the rear seats are going to have less room than a vehicle from a larger class. However, the interior of the Cruze has been lauded for having a very comfortable interior and has elements that outpace those found in the 2014 Elantra.
Engine choices for the Chevy Cruze and the Hyundai Elantra
Another of the major advantages that the 2014 Chevy Cruze has over the 2014 Hyundai Elantra is the sheer number of engine options Cruze customers have available at Chevrolet of Naperville. Base trims of the Chevy Cruze are powered by a 1.8-liter, four-cylinder engine that can make 138 horsepower and record 25 miles per gallon in the city and 36 miles per gallon on the highway. The main star of the show is the turbocharged, 2.0-liter, four-cylinder diesel engine that makes 151 horsepower with more than 260 pound-feet of torque and can get more than 45 miles per gallon during highway driving. The clean Turbo diesel engine also has the ability to have a range of more than 700 on one tank of fuel.
The engine choices for the 2014 Hyundai Elantra top out with a 2.0-liter, four-cylinder engine that has top-end power output of 173 horsepower, but it doesn't come anywhere close to matching the fuel-economy of the Chevy Cruze Diesel. Another interest design choice that places the Cruze ahead of the Elantra; is the large trunk space making loading and unloading cargo.