2014 Chevy Impala vs 2013 Lincoln MKZ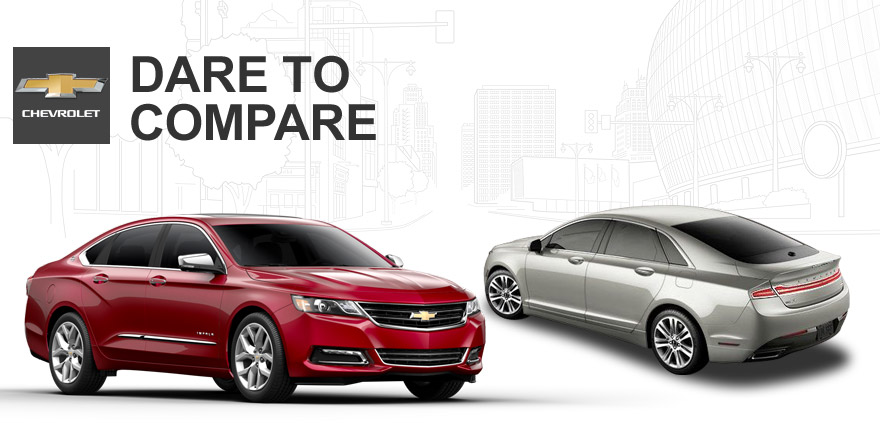 | | | |
| --- | --- | --- |
| 2014 Chevy Impala | | 2013 Lincoln MKZ |
| $26,725 | MSRP (base trim model) | $35,925 |
| 21/31 | MPG | 22/33 |
| 195 | Horsepower | 240 |
| 6-speed auto/Front-wheel drive | Transmission/Drivetrain | 6-speed auto/Front-wheel drive |
2014 Chevy Impala vs. 2013 Lincoln MKZ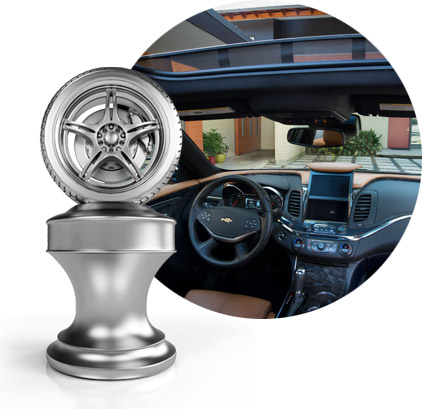 Automotive types have a habit of falling in love with numbers and jargon. Sometimes we forget that other people don't talk like this every day and we need a reminder of that. When looking at the 2014 Chevy Impala vs. the 2013 Lincoln MKZ it can be a daunting task to breakdown all of the numbers. Here is the big number you need to know. The 2014 Chevy Impala has a manufacturers' suggested retail price that is a little over $9,000 more than that of the 2013 Lincoln MKZ. What does that pay for? For that price difference you get minuscule difference in miles per gallon and a jump in horsepower.

For the performance minded, you can upgrade to a 3.6-liter, V-6 engine with direct injection that will turn out 305-horsepower and you will still have an MSRP that is thousands less than the Lincoln MKZ. If achieving higher mpg scores is truly important to you, there will be an Impala hybrid that will combine a gasoline powered engine with a 15-hp electric motor that can work together or independently in a given situation.
Impala offers luxury interior
The Chevy Impala nameplate has been one that has always stood for affordable luxury. That tradition is easily continued with the 2014 Chevy Impala. As impressive and sharp as the exterior of the new Chevy Impala is, the interior matches it note for note. The dashboard and driver's gauge cluster are designed with a very modern aesthetic and contemporary style. Each interior element was carefully chosen and brought together by the experienced Chevrolet design staff to make sure every stitch is in place and every seam is aligned properly.

When you take home the 2014 Chevy Impala, you will be driving a car that is as comfortable for your passengers as it is for you to drive. The new Impala is a few inches longer than previous models that subtle increase in wheelbase has made the rear seats comfortable for even taller riders. In the comparison of the 2014 Chevy Impala vs. the 2013 Lincoln MKZ, the more expensive Lincoln model has a more severely sloped roofline that has taken away from the available headroom that Lincoln passengers over six feet tall would be needing.