2014 Chevy Impala vs 2014 Dodge Charger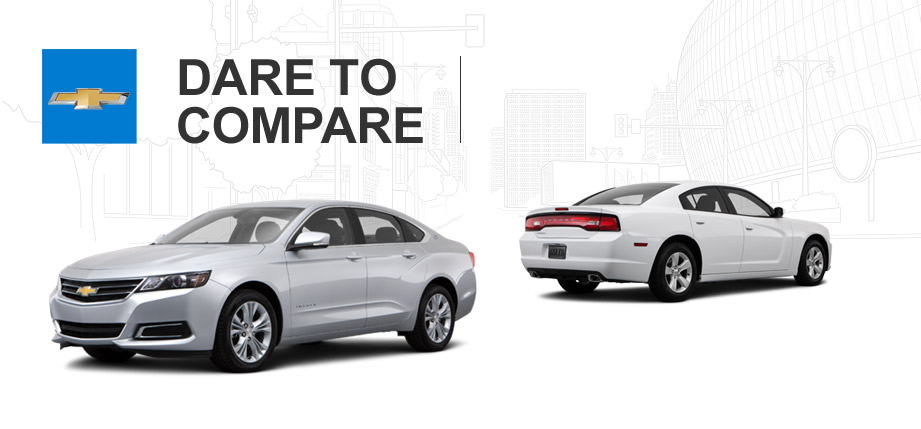 | | | |
| --- | --- | --- |
| 2014 Chevy Impala | | 2014 Dodge Charger |
| 3.6-liter, V-6 | Engine | 3.6-liter, V-6 |
| 305 | Horsepower | 292 |
| 18 City / 28 Highway | Fuel-economy | 18 City / 28 Highway |
| Front-wheel Drive | Standard Drivetrain | Rear-wheel Drive |
2014 Chevy Impala vs. 2014 Dodge Charger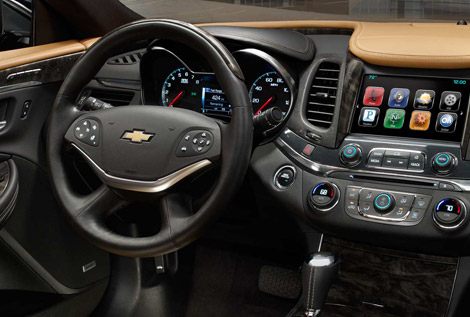 There was a time in American full-size sedan design that every vehicle in the class was powered by large and highly capable V-8 engines. As the years have passed, those large land yachts have given way to smaller, more nimble and fuel-efficient designs; however there are two models out there that have stayed true to their roots. Buyers trying to choose between high-performance sedans like the 2014 Chevy Impala vs. 2014 Dodge Charger will have some tough decisions to make.
The 2014 Chevy Impala was completely redesigned for the current model-year, making it the flagship of the Chevrolet passenger car fleet. The new Impala has a totally new exterior design with bold lines and curves as well an athletic stance on the road that gives customers a sense of confidence on the road. When it comes to the 2014 Dodge Charger, it is a family sedan in the sense that it has four doors, but it still reflects the muscle car DNA and the Charger heritage.
Setting the Chevy Impala and the Dodge Charger apart
As we alluded to earlier, the trend of family sedans is that they are being trimmed down. The 2014 Chevy Impala eschews that philosophy by offering one of the most comfortable passenger cabins available in this automotive class. The cabin is covered in premium materials and each element is specifically designed to make traveling more comfortable. Even the passengers in the rear seat have some of the most room available in the class. Additionally, the base trims of the Chevy Impala are powered by a 2.5-liter, four-cylinder engine that is rated for 195 horsepower and can record 21 miles per gallon in the city and 31 miles per gallon on the highway.
The direct comparison between the 2014 Chevy Impala vs. the 2014 Dodge Charger gets very close when the two cars' V-6 engines come into play. The Impala has a 305-horsepower that out powers the base engine of the 2014 Dodge Charger with its 292 horsepower. Even with the increased power output of the Impala it maintains the same Environmental Protection Agency fuel-economy scores as the Charger. Also, the Impala has a front-wheel drive drivetrain that is, arguably, better suited for handing less than ideal road conditions.