2014 Chevy Silverado VS 2013 Ford F150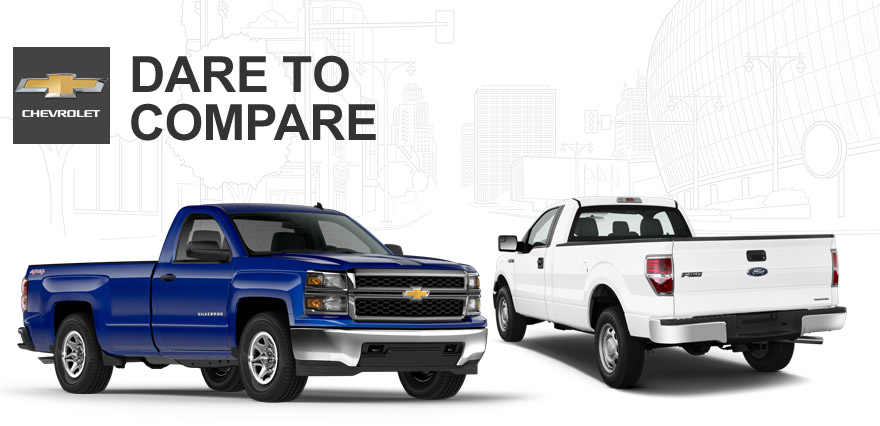 | | | |
| --- | --- | --- |
| 2014 Chevy Silverado | | 2013 Ford F-150 |
| $35,560 | Starting MSRP | $35,915 |
| 16/23 with 5.3-L,V-8 | MPG | 15/21 with 5.0L, V-8 |
| 11,500 lbs. | Towing Capacity | 11,300 |
| 355 | Horsepower | 360 |
2014 Chevy Silverado vs. 2013 Ford F-150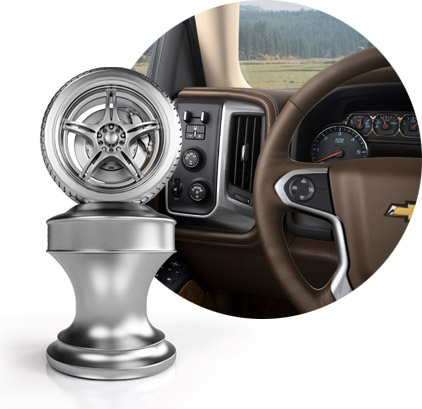 Pickup trucks have to perform under a dizzying range of conditions to get the job done. The 2014 Chevy Silverado has been redesigned and re-engineered to reset the narrative among the full-size pickup truck segment. Chevrolet engineers started from the ground up when looking to redesign the 2014 Silverado, they did away with anything that did not add to the performance or utility of the truck. The engineers also used some asymmetrical thinking to bring a series of add-ons that will make using the new 2014 Chevy Silverado more convenient.

Among those convenience additions are the innovative CornerStep system that places footholds in the corners of the rear bumper to make accessing the cargo box for small items much easier. Also there have been a series of cargo hooks added to the walls of the cargo box to make securing loads much easier for you. Also, when properly equipped, the 2014 Chevy Silverado will be able to tow more than its chief rival, the 2013 Ford F-150.
2014 Silverado offers more engine options
Because the 2014 Chevy Silverado will be used by people who need their trucks to provide for their families, special attention has been paid to make sure those people have a truck that will work for them. Chevrolet has introduced three new EcoTec3 engines to give owners options of performance versus fuel-economy. The new Chevy Silverado will start with a 4.3-liter, V-6 engine that will be available during late summer of 2013 and gives potential owners a steady mix towing performance and fuel-savings. The V-6 engine will be the first of its kind to have two of its valves shut off to conserve fuel when the situation is right.

The 5.3-liter, V-8 EcoTec3 engine is Chevrolet's most popular motor. It offers the horsepower needed when the situation demands it and was a pioneer in fuel savings, being one of the first engines to offer the valve shut off capability to save gasoline. The 6.2-liter, V-8 will be made available during the fall of 2013 and is the most powerful engine Chevrolet has ever placed into a light-duty pickup truck. When hauling is the key to your business, the 2014 Chevy Silverado with the 6.2-liter engine will be able to answer the bell.