2014 Chevy Silverado vs 2014 Ford F-150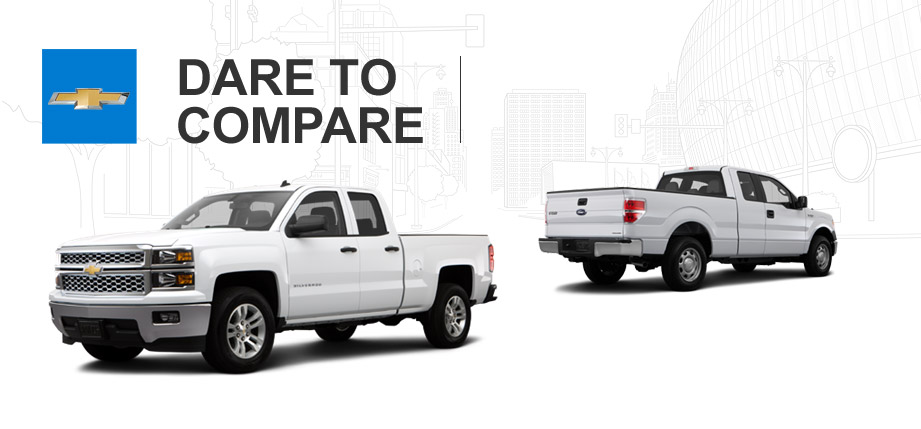 | | | |
| --- | --- | --- |
| 2014 Chevy Silverado | | 2014 Ford F-150 |
| 4.3-liter, V-6; 285 horsepower | Engine | 3.7-liter, V-6; 302 horsepower |
| 6-speed automatic | Transmission | 6-speed automatic |
| 18/24 | Fuel-Economy (city/highway) | 17/23 |
| 7,600 | Towing capacity (lbs.) | 6,700 |
2014 Chevy Silverado vs. 2014 Ford F-150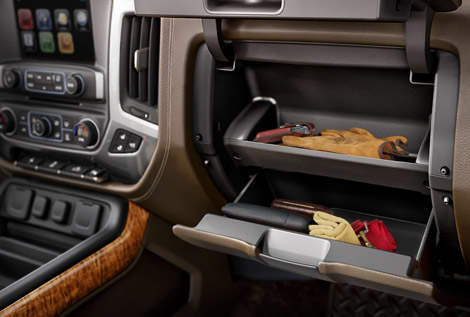 Any sales professional on the Chevrolet of Naperville property will tell you that pickup truck customers are, arguably, the most loyal and toughest to switch from their chosen manufacturer. The 2014 Chevy Silverado was built to do exactly that. The competition in the American full-size pickup truck segment of the automotive industry is fierce. That's why comparison tools like this are so important. Chevrolet and Ford have been long time rivals in pickup truck world and comparing their two top models the 2014 Chevy Silverado vs. 2014 Ford F-150 is a difficult task.
Both trucks have the pedigree to knock one another around the ring, so to speak. When Chevrolet engineers were working on the 2014 Silverado, they started from the ground up and built an almost entirely new pickup truck from scratch. The 2014 Silverado has several amenities that solve some vagaries of pickup truck ownership that can be the difference is such a tight battle. Among those standard features are the innovative CornerStep that makes climbing in and out of or accessing the cargo bed significantly easier. That sort of innovative thinking also led to Chevy designers making the buttons on the controls of the Silverado larger so they can be used by drivers wearing gloves.
Performance differences of the 2014 Silverado and the 2014 F-150
The base trim of the 2014 Chevy Silverado is powered by a 4.3-liter, V-6 engine that can produce 285 horsepower and 305 pound-feet of torque while still getting an Environmental Protection Agency fuel-estimated 18 miles per gallon in the city and 24 miles per gallon on the highway. These EPA fuel-estimate scores are good enough to place the 2014 Silverado at or near, the top of the class. The competing 2014 Ford F-150 has a 3.7-liter, V-6 that is rated for a maximum power output of 302 horsepower and 278 pound-feet of torque. The 2014 F-150 will record 17 mpg (city) and 23 mpg (highway).
Naysayers will look at the discrepancy in the horsepower of the 2014 Chevy Silverado vs. the 2014 Ford F-150 and immediately call the game for the Ford truck. That would be not only premature but also ill advised. When it comes to towing capacity, the game is not only won and lost in the trenches of horsepower, there is a reason why torque is mentioned with engine performance. The new Silverado provides more maximum torque which helps it tow an impressive 7,600 pounds compared to the 6,700 pounds that tops out the 2014 F-150.