August 2013
Among the many reasons why our community of Naperville, IL is consistently ranked as one of the top places to raise a family in the United States is the sheer amount of family-centric programs that are put on by our many civic-minded organizations in the city. Looking at the Naperville Calendar of Events is almost an embarrassment of riches for our town. Since Chevrolet of Naperville is committed to giving back to the people who are our business partners and friends it only makes sense that we do our part in getting some of this news about new things to do in Naperville, IL out to the public.
Naperville Farmer's Market
Few things make a salad or a simple sandwich taste as wonderful as freshly picked fruits or vegetables on a couple of slices of freshly baked bread. If this is the sort of thing that gets your taste buds making the decisions, then the weekly farmer's market held every Saturday until October the place for you. Local artisans of all types use the 5th Avenue Station front parking lot as an open-air market to sell their wares from 7 a.m. to noon; rain or shine.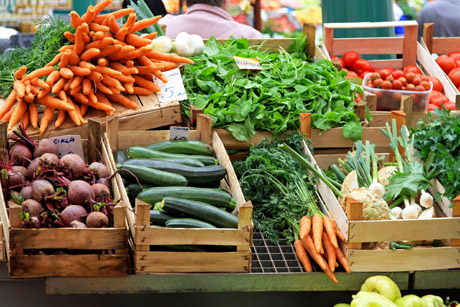 Free Movie Nights in Central Park
Going to movies would be a great family activity if it wasn't for cramped seats, sticky floors and concessions so expensive that you have to consider a night job to pay for them. With Free Movie Nights in Central Park, you can enjoy a nice meal downtown or bring a picnic basket and a blanket and watch a popular movie while being stretched out and comfortable on the grass of Central Park, located at the corner of Washington Street and Benton Street. On August 2, the super hero team of "The Avengers" will be gracing the screen and on August 31 the animated "Hotel Transylvania" will be shown.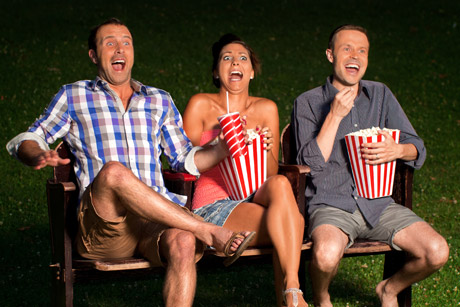 The 2013 Last Fling
Right now it may seem like summer but it is getting into the waning moments faster than some would like. Aug. 30 through Sept. 2 is the annual Last Fling celebration. The Last Fling encompasses everything we have to be proud of in Naperville. The four-day festival encompasses nearly a mile of Naperville's downtown streets and features music stages, numerous family attractions and very likely more food that would be reasonable to eat in only a single visit. Headlining the main concert will the The Goo Goo Dolls.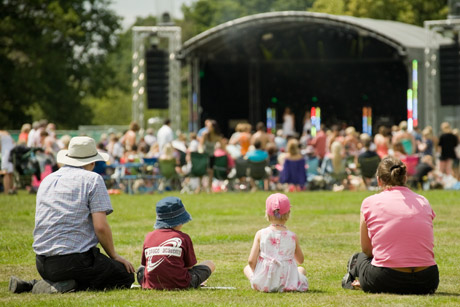 10/30/12

A special thanks to our local Naperville Fire Department and Chevrolet of Naperville Technicians, Steve Kalamen and Perry Bridgeman! Several firemen were on site to learn all about the Chevrolet Volt! With the increasing number of Volts on the road, as part of First Responder, it is very imperative when in an emergency situation firemen know how and where to cut into the vehicle, disable the vehicle's power system and how to power down the vehicle. The firemen had a great walk around of the Volt vehicle and all the features inside, outside and under the hood! Just another way Chevrolet of Naperville is concerned for safety in the community and partners with the Naperville Fire Department!
Thanks!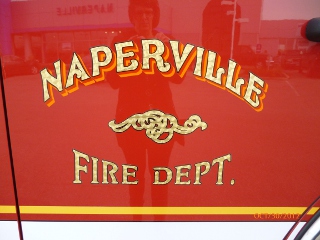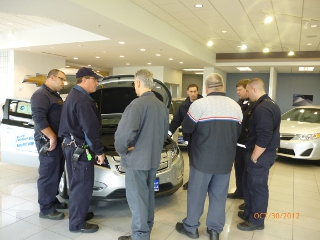 10/15/12
City of Naperville, IL Unveils First Public Car Charging Station, Perfect for the Chevy Volt
Chevrolet of Naperville is very excited to announce that residents and customers who travel to downtown Naperville, Illinois in their Chevy Volt or other electric vehicle now have access to a public charging station that was unveiled last week by the city, where they can charge their car for free.
Last week the city of Naperville, Illinois unveiled the first of possibly several electric charging stations in the downtown Van Buren Street parking lot. Chevrolet of Naperville is extremely excited that this great city is looking at "green" options for those who choose to drive the Chevy Volt in Naperville, IL or other electric vehicles. The charging stations will be turned on Tuesday, October 16th and will allow users to partially recharge their vehicle for up to three hours.
City officials expect the charging station to be a big hit and Chevrolet of Naperville is ecstatic to have such a great asset to the community right in the downtown area. City Manager, Doug Krieger said that this station will serve as a test pilot and that if it is popular, more will come. Downtown businesses are very happy about the new charging station as well. They are counting on people doing their shopping and eating out while their vehicle is charging. There are not many other restaurants that you can dine at while charging your car, but Naperville now has options.
Chevy Volt drivers are finding charging their Volt easier and easier these days. An employee of Chevrolet of Naperville, and a Volt driver herself, recently had the new Volt charging system installed right on her garage. The Blink system is great for getting a quick charge and it is the same system that is installed at the Naperville downtown station. A full charge can be had in four hours with the charging system on a Volt.
Chevrolet of Naperville would like to invite any electric vehicle drivers to head downtown and shop, dine and charge their cars. Many people that are visiting Naperville should take advantage of this station as well. Downers Grove, IL Chevy shoppers regularly come in to Naperville and now they can charge their car while they shop. Romeoville Chevy shoppers can come in and see the selection of Volts in our store as well.

6/18/12




4/9/12
The Naperville, IL Chevy dealership will be donating $20 to the Turning Pointe Autism Foundation for each test drive taken in April
NAPERVILLE, Ill., April 4, 2012 /PRNewswire-iReach/ -- April is autism awareness month and one of the leading Naperville, IL Chevy dealerships, Chevrolet of Naperville, is raising awareness in a big way. Throughout the month of April, the dealership will be participating in the 2nd annual "Test Drives to Fight Autism." This means that for every single test drive taken at Chevrolet of Naperville and other participating Naperville car dealerships, $20 will be donated to the Turning Pointe Autism Foundation. Chevrolet of Naperville is very proud to be participating in this excellent event and hopes to raise a lot of money for the cause.

Last year the goal for the event was to raise $50,000 for the Turning Pointe Autism Foundation, but that goal was exceeded and $66,730 was raised. This year, the expectations are higher and the goal is set at $75,000. Chevrolet of Naperville is excited to get things moving and they want to invite the entire community in to the dealership to test drive a new Chevy.

Along with this event, the Turning Pointe Autism Foundation is also preparing for the opening of their new North Naperville Community Campus on April 12th. The new community campus will help improve the quality of life of all people and their families, who are severely impacted by autism. This goes right along with the mission of the foundation, which, in addition to improving the quality of life, also seeks to maximize independence and support community integration through innovative programs and support. The campus will be a great asset to the entire Naperville, IL community and people can help even more by participating in "Test Drives to Fight Autism."

Chevrolet of Naperville is thrilled to be a part of this great cause that they hope that many people will be participating. Those interested in a new Chevy car in Naperville, IL should stop by the dealership to check one out and take it for a test drive. Chevrolet of Naperville features many new Chevy models including the new Chevy Sonic in Naperville, IL and the new Chevy Malibu Eco in Naperville, IL. For more information please visit www.chevroletofnaperville.com or call (877) 450-1080.
---

3/9/12
Chevrolet of Naperville to Host Baby Shower for Military Mothers
NAPERVILLE, Ill., March 19, 2012 /PRNewswire-iReach/ -- Chevrolet and their Driving Midwest team, along with Operation Homefront have partnered with Chevrolet of Naperville, one of the leading Naperville, IL Chevy dealers, to collect items for a special baby shower for military moms. "Operation Precious Cargo" has challenged 11 teams in the state to help collect items that will be given to expecting military mothers in a celebration baby shower hosted by Chevrolet of Naperville.

Each of the teams are led by a captain and will be present at the baby shower held on Thursday, March 22 from six until eight p.m. There will be seven to 10 military mothers present and members of the Chevy Driving Midwest team. Chevrolet of Naperville employees and friends will be there as well.

Chevrolet of Naperville is a proud supporter of the U.S. Military and their families and they are honored to be able to participate in an event such as this. Operation Homefront is a great organization as well and the benefits from this event will help many families who have husbands and fathers who are deployed. Chevrolet and Operation Homefront representatives will be available to talk about their mission and to work with military families at the event.

Come check out Chevrolet of Naperville if you are looking for a great deal on a Chevy in Naperville, IL. They carry a large selection including the 2012 Chevy Sonic in Naperville, IL and they are anxiously anticipating the Chevy Spark in the Chicago area this summer. For more information please visit www.chevroletofnaperville.com or call (877) 450-1080.
Media Contact: Jan Kutchuk Chevrolet of Naperville, (877) 450-1080, jkutchuk@chevroletofnaperville.com News distributed by PR Newswire iReach: https://ireach.prnewswire.com SOURCE Chevrolet of Naperville
---
3/9/12
Operation Precious CARgo!
Thanks for stopping by! My name is Melisa Wells and I am one of twelve Chicago-area team captains for Chevrolet's Operation Precious CARgo, a campaign to collect baby registry items for deserving military moms-to-be!
I have worked with Chevrolet many times in the past and really admire the company's emphasis on doing good deeds in the community. I hope you can help me out!
Between now and Saturday March 17, you can drop off donations from the registry list at Chevrolet of Naperville, 1515 W. Ogden Avenue. The kind folks there will secure the donations until the 17th when I come to pick them up.
If you can make it to the dealership ON Saturday March 17 anytime between 11 a.m. and 1 p.m., I'll be there with refreshments for a "mini baby shower".
Registry items include:
Diapers (sizes 4, 5 or 6)
Baby wipes
Bottles
Pacifiers
Blankets
Baby soap and baby lotion
Lanolin cream
Burp cloths
Onesies (gender-neutral)
Socks
Hats
Newborn lounger pillow
Hand sanitizer
Medical kit – thermometer, mini-nail clippers, bulb syringe, etc.
Hooded towel and washcloth
Sensory toys and/or stuffed animals
Don't forget, all donations must be dropped off at Chevrolet of Naperville by Saturday March 17 at 1 p.m.
Please share this with local friends and family, and if you're on Twitter, tweet about it using the hashtag #ChevyCARgo.
Questions? Contact me at melisawells(at)gmail(dot)com.
On behalf of Chevrolet, the folks at Driving the Midwest, the military moms-to-be who will benefit from this program, and myself…thanks in advance for your involvement!
---
2/23/12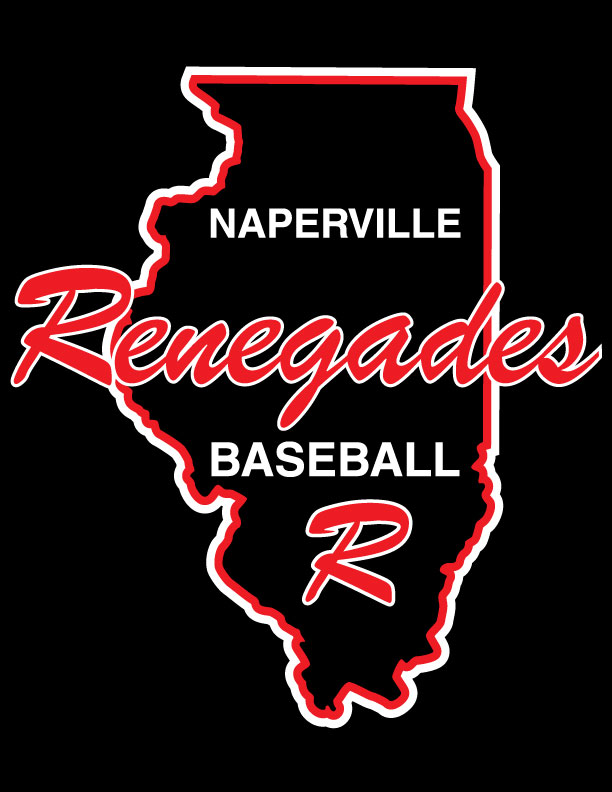 Working With Our Youth
As baseball season approaches, Chevrolet of Naperville, the premier Chevy dealership in Naperville, IL, is stepping up to the plate for its local youth baseball team. The dealership is partnering with the Naperville
Renegades travel baseball club to provide a monetary donation as well as equipment, a chance to attend instructional clinics at Wrigley and U.S. Cellular Fields, and a chance for the Renegades to raise more funds through a Chevy vehicle giveaway fundraiser.
The partnership is part of Chevrolet's Youth Baseball Program. Chevrolet of Naperville will present the Renegades with the equipment, which includes hitting nets, baseball buckets, equipment bags and Chevy t-shirts, among other items. The youth players also have the opportunity to attend a clinic run by major and minor league players and coaches in late spring.
Dan Wolf, President of Chevrolet of Naperville, commented on the dealership's involvement with the program. "Baseball is the great American past-time, and Chevrolet is proud to have a longstanding history with this tradition on a national level," Wolf said. "Youth baseball in this area is truly cherished, and we are happy and excited to support these kids in a significant way."
Chevrolet of Naperville is also selling tickets for the Renegade's Chevy Youth Baseball Fundraiser. This program allows the club to raise money by selling raffle tickets at a suggested donation. The club then is allowed to keep all of the money from the sales. Five raffle donators will be chosen at random to receive either a Chevy Equinox or Chevy Cruze, as well as a chance to win a home entertainment system. Tickets are available at Chevrolet of Naperville as well as the Renegades' indoor training facility at 1692 Quincy Avenue #116.
---
11/16/11
Honoring Our Community
Chevrolet of Naperville is proud to recognize Phil Carmody and his dedication to the Naperville Fire Department and Opportunity Knocks. Several were on hand at the Naperville Fire Department on Wednesday, November 16th, to congratulate Phil and watched as he was rewarded with a week-long loan of a '45th Anniversary Edition' 2012 Camaro, $100 Visa gift card, dinner for the firemen and arts & craft supplies for Opportunity Knocks. Congratulations Phil!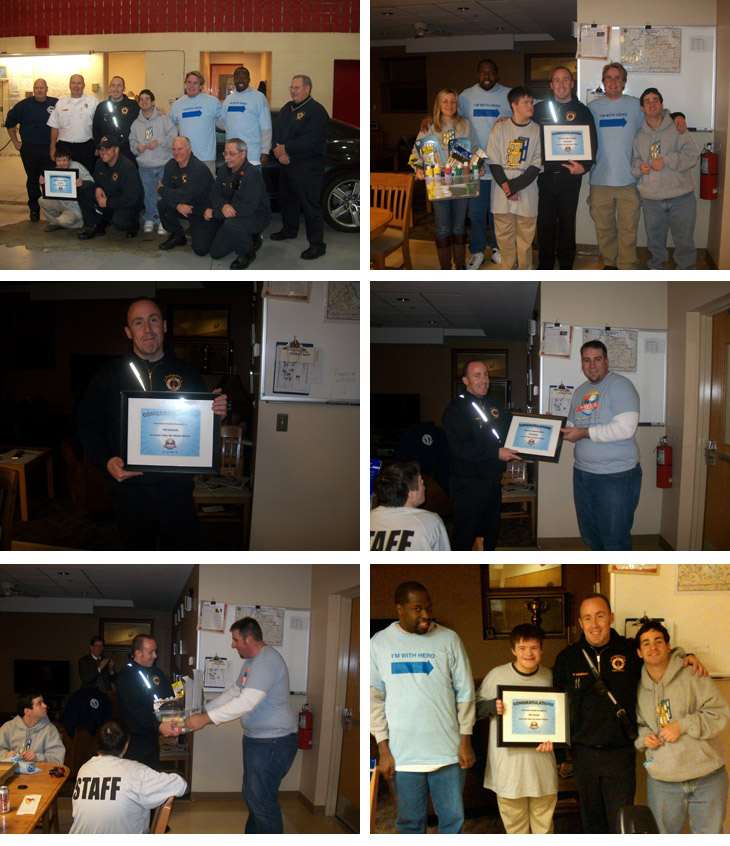 ---
11/8/11
Our first Volt Seminar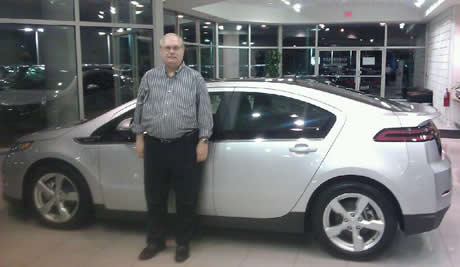 Our first Volt Seminar held on Monday, November 7th, 2011, was a success! Thanks to all who attended! A special thanks to Thomas Coleman who attended the seminar, got all his questions answered and came back today to purchase a Volt! Congratulations Tom! Special thanks to Rene Peyton and Wayne Michor for holding the Volt Seminar. We anticipate that more will follow! Tom is from Naperville, IL.
---
11/8/11
Iraq War veteran welcomed back to his job at Lexus of Naperville
By Anna Palmieri ~ triblocal.com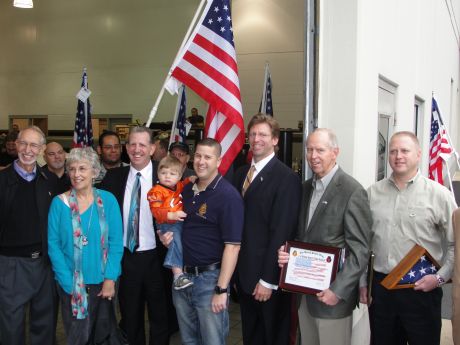 Naperville, IL—Lexus of Naperville employee Marc Grigsby was officially welcomed home from the Middle East at a Dan Wolf Automotive Group Veterans parade, ceremony and luncheon at the dealership on Monday, November 7th. The event was coordinated by Operation Welcome You Home Illinois, an organization founded by Donna Morsovillo of Naperville that welcomes home returning service men and women.
Army Sergeant First Class Grigsby is returning to his job as a service writer at Lexus of Naperville after being deployed to Iraq for 12 months. Grigsby was welcomed home and honored for his brave service during the ceremony. Other employees of the dealership who are veterans of the armed forces were also recognized for their service during the event.

---
10/29/11
Buzz growing about electric cars in Naperville
By Stephanie Lulay and David Sharos ~ Sun-Times Media October 4, 2011 11:12PM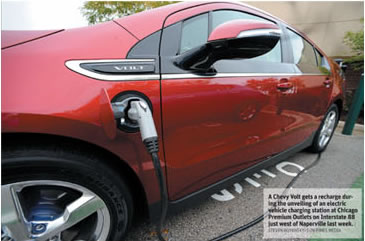 The electric car has been talked about for years, but always seemed to be a vehicle that would only appear sometime in the distant future.
Now, however, there are clear signs that the technology is beginning to make its first steps towards general acceptance here in Naperville.
Stepping up to buy
Naperville resident Steve Lottes wants to start a revolution. A research scientist at Argonne National Laboratory, Lottes believes that change isn't about numbers, it's about just one person stepping up and hoping to make a difference. And for Lottes, changing the world started with buying a car.

---
10/14/2011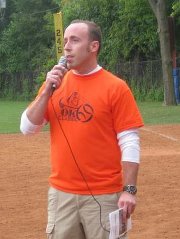 We at Driving the Midwest want to thank everyone who visited our site to vote and show their support for all of our recent first responder finalists. Each of these firefighters, paramedics and police officers truly exemplifies an everyday hero – individuals serving their communities with dedication, bravery and pride, both in and out of uniform.
With more than 1,300 votes cast during the week, we are pleased to name Phil Carmody the winner of the special first responders round of Our Town, Our Heroes! We are proud to recognize Phil and his dedication to the Naperville Fire Department and Opportunity Knocks. To reward Phil, General Motors will provide him with a week-long loan of a new vehicle and a special prize package. Phil's nominator, John Halgren, will also receive a week-long loan of a General Motors vehicle. Continue reading to see why John says Phil is a hero!
Phil Carmody from Naperville, nominated by John Halgren Phil is a hero for two reasons. Not only is he a Naperville firefighter paramedic, but he also serves as the President on the Board of Directors for 'Opportunity Knocks,' an organization dedicated to advancing opportunities for challenged adults in our neighborhood. His brother, Mike, founded the organization and was inspired by their brother John, who has Down syndrome. Phil campaigns tirelessly and truly represents a hometown hero.
---
10/13/11
During the WGN Radio broadcasts of Blackhawks hockey throughout the 2010-2011 season, Dan Wolf Toyota of Naperville, Chevrolet of Naperville and Lexus of Naperville pledged a generous donation of $100 for each goal scored by the Blackhawks to benefit the Turning Pointe Autism Foundation. The WGN Radio broadcast team of John Wiedeman and Troy Murray announced a grand total of 277 Blackhawks goals during the regular season and the playoffs. Prior to the October 13th Blackhawks game at the United Center, Troy Murray, Judd Sirott and John Wiedeman of WGN Radio joined Randy Wolf, partner of the Dan Wolf Automotive Group and General Manager of Lexus of Naperville who presented a check for $27,700 to Turning Pointe Executive Director Drew Glassford and Vice-President Mark Kirstein from the TPAF Board of Directors.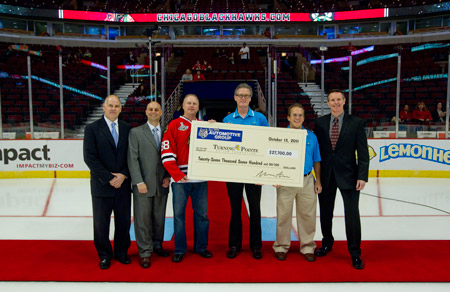 ---
10/11/2011
On Tuesday, October 11, Naperville Mayor A. George Pradel enthusiastically accepted a Chevy Volt electric vehicle loan at the Naperville Auto Test Track courtesy of Dan Wolf Chevrolet of Naperville. Mayor Pradel took a ceremonial drive around the Naperville Auto Test Track to publicly demonstrate the future of electric vehicles and the City's commitment to environmental initiatives. The Chevy Volt is an electric vehicle powered primarily through an electric battery and also has the capability to run on gas due to an onboard gas generator.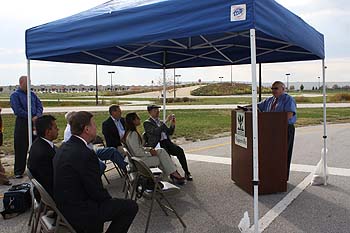 Mayor A. George Pradel welcomes the crowd and describes his enthusiasm for driving a Chevy Volt around Naperville. Mayor Pradel has driven a Ford Escape hybrid for the past few years as a way to conserve fuel costs and help sustain the environment.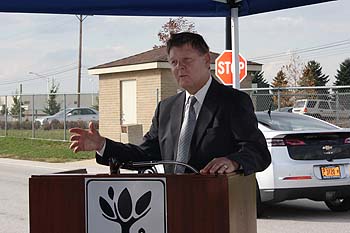 Several representatives from Dan Wolf Chevrolet of Naperville attended the event, including Chevrolet of Naperville General Sales Manager Wayne Michor. The Chevy dealership receives one Volt per month and currently has a waiting list for the electric vehicles through March 2012.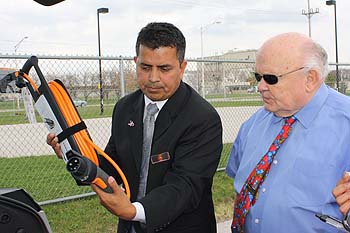 Chevrolet of Naperville Volt Specialist Rene Peyton explains to Mayor Pradel how to charge the Volt. The vehicle will be located in the lower level of the Municipal Center parking deck and will plug in to a standard electrical outlet for charging.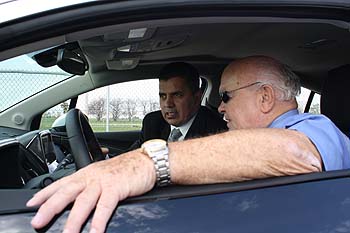 Chevrolet of Naperville Volt Specialist Rene Peyton shows Mayor Pradel the various features of the Volt. Naperville is a leader in several green initiatives, including the Naperville Smart Grid Initiative (NSGI), which is paving the way for widespread adoption of electric vehicles in Naperville through modernization of the City's electric utility grid. The NSGI will use digital technology to help the utility and its customers better track and manage their purchase and use of energy, preparing the City for increased energy demand and for the future of energy conservation.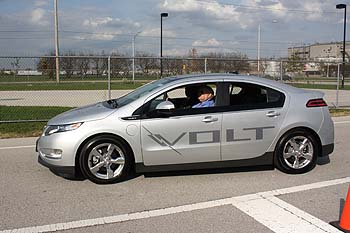 Mayor Pradel completes his test drive around the Naperville Auto Test Track, a public-private partnership that provides a way for automobile customers to safely test drive passenger cars, light trucks and sport utility vehicles (SUV) in a closed environment and alleviate traffic congestion along Ogden Avenue. The track is designed to allow drivers to experience everyday road conditions during their test drive, such as asphalt roadway, a railroad crossing, cobblestone surface area, suburban driveway, high bank testing area, skid pad and an SUV testing area with a hill climb and rough road section.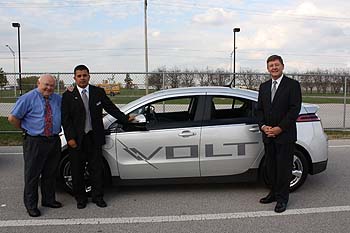 Mayor Pradel (left) poses for a picture following his test drive with Chevrolet of Naperville Volt Specialist Rene Peyton and Chevrolet of Naperville General Sales Manager Wayne Michor.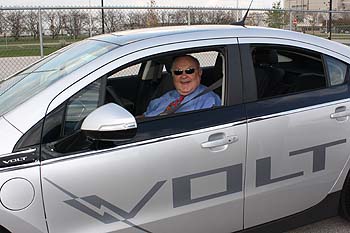 Mayor A. George Pradel smiles as he prepares to leave the Naperville Auto Test Track in the Chevy Volt. The Mayor will initially drive the vehicle for a period of time, and then all City Council members will be offered the opportunity to test drive the electric vehicle as well.


---