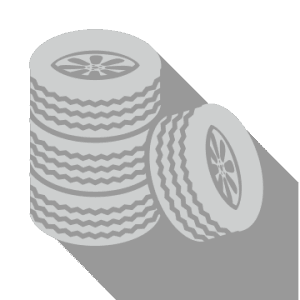 Tire Rebate
GET UP TO $200 BACK ON TIRES
UP TO $100 MAIL-IN REBATE (DEBIT CARD)††
$100 MAIL-IN REBATE (debit card)†† on a set of four tires from these premium brands: Bridgestone, Continental, Goodyear, Hankook, and Pirelli
$70 MAIL-IN REBATE (debit card)†† on a set of four tires from these premium brands: BFGoodrich and Michelin
$50 MAIL-IN REBATE (debit card)†† on a set of four tires from these premium brands: Dunlop, Firestone, and General
$40 MAIL-IN REBATE (debit card)†† on a set of four tires from Uniroyal
PLUS UP TO $100 Statement Credit:
Get instantly approved‡‡ when you apply for a BuyPower Card® at your dealership. You could qualify for a statement credit in the amount of your first dealership purchase, up to $100.∆∆∆
††See participating U.S. dealer for details and rebate form, which must be postmarked by 5/31/17. Allow 6 to 8 weeks for delivery of debit card. Rebate form and details available at mycertifiedservicerebates.com. Offer ends 4/30/17. Cannot be combined with other tire manufacturer-sponsored or BuyPower Card rebates/offers. ‡‡Credit approval required. Terms and conditions apply. ∆∆∆If your decision is deferred and is approved at a later time, or should you receive instant credit and choose to wait to make a purchase, you are eligible to receive this promotion within the first 30 days of application approval. This onetime credit will appear on your first or second statement and will be in the amount of your first purchase, up to $100, on service, parts, or accessories. Offer ends 4/30/17.
Capital One, N.A. is the issuer of the BuyPower Card. General Motors is responsible for the operation and administration of the Earnings Program.
EXPIRES: 04/30/2017
Chevrolet of Naperville
1515 W. Ogden Ave, Naperville, IL
Service: (630) 357-6100
Tire Rebate
GET UP TO $200 BACK ON TIRES
Expires: 4/30/17
UP TO $100 MAIL-IN REBATE (DEBIT CARD)††
$100 MAIL-IN REBATE (debit card)†† on a set of four tires from these premium brands: Bridgestone, Continental, Goodyear, Hankook, and Pirelli
$70 MAIL-IN REBATE (debit card)†† on a set of four tires from these premium brands: BFGoodrich and Michelin
$50 MAIL-IN REBATE (debit card)†† on a set of four tires from these premium brands: Dunlop, Firestone, and General
$40 MAIL-IN REBATE (debit card)†† on a set of four tires from Uniroyal
PLUS UP TO $100 Statement Credit:
Get instantly approved‡‡ when you apply for a BuyPower Card® at your dealership. You could qualify for a statement credit in the amount of your first dealership purchase, up to $100.∆∆∆