2017 Chevy Silverado vs 2017 Nissan Titan
2017 Chevy Silverado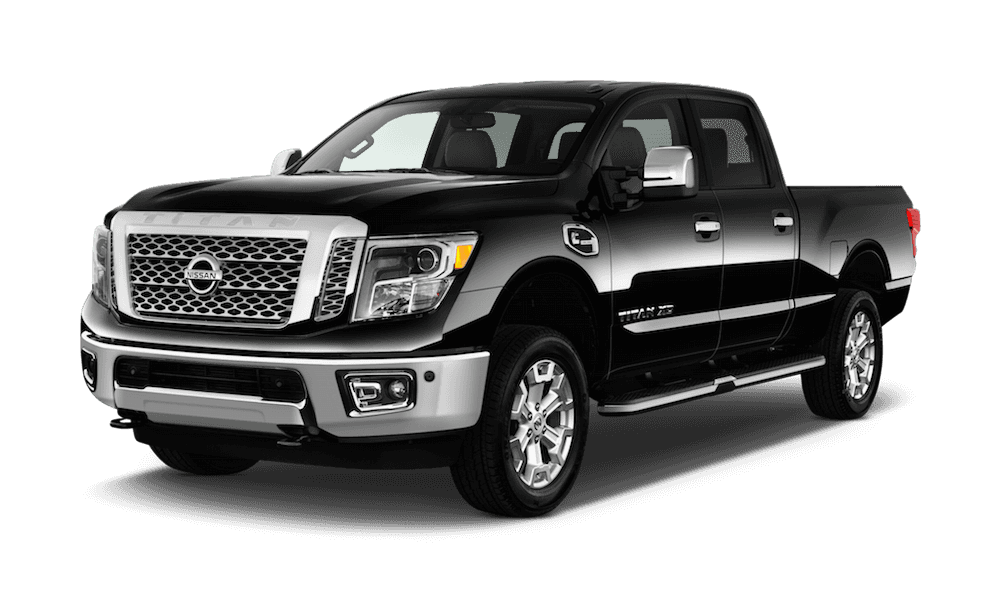 2017 Nissan Titan
12,500 lbs
V8 Towing Capacity
9,390 lbs
Best-in-Class V8 Fuel Economy
Roll-Formed, High-Strength Steel Bed
2 Scheduled Maintenance Visits Included
When it comes time to consider the longest-lasting pickup truck on the road or one of its competitors, the decision isn't as hard as you think. If you take a closer look at a 2017 Chevy Silverado vs 2017 Nissan Titan, it's clear which model is the one to pick. The Silverado not only comes in at a starting MSRP of almost exactly $2,000 less, it also offers more for less all throughout the remaining trim levels. With three engine options to choose from, three best-in-class ratings for those engines, unique safety/technology features and better warranty/included vehicle maintenance, choosing the Silverado is easier than ever.
Safety and Technology
On the safety and technology side of the fence, the 2017 Silverado also outclasses most of the competition, especially the Nissan Titan. In part, this is because Chevrolet is offering technology and safety features that are rarely found in other trucks on the market.
Take for example, the built-in 4G LTE Wi-Fi hotspot. Thanks to Chevy's OnStar service, you'll have a high-speed Wi-Fi connection wherever you decide to go. The hotspot uses its own data that you buy, which means you won't end up eating away at your cellular data. Sure, you'll have to pay for data. But, you'll be able to save your data for when you need it most, not worry about overcharges, and always have a faster-than-data Wi-Fi connection handy. Some of the other trucks have aftermarket Wi-Fi that can be installed, but not sold built-in and direct from the manufacturer like the Silverado.
Teen Driver Technology is also on board the 2017 Chevrolet Silverado, and marks the first time the truck segment has seen technology like this. It's a suite of features that help promote better driving habits for a teenage son or daughter who gets behind the wheel of the truck. Parents, you'll be able to set a PIN to gain access to an in-vehicle report card, and set certain restrictions. For example, you keep the audio muted until passengers are safely buckled-in, determine a safe speed of travel, and more. On the in-vehicle report card, you'll be able to access information, such as whether there were any overspeed warnings detected, which advanced safety features activated, how far the vehicle drove, and more. The point is to provide you with a way to promote good driving habits for your teenage son or daughter, even when you can't be in the car with them.
Engines and Performance
For 2017, trucks aren't just about having the biggest and baddest engine. Nowadays, the more engine options, the better. Simply because trucks aren't used strictly for work anymore. Since gas prices have stabilized at a relatively low price, some consumers are buying trucks just because they like the looks of them. Others are buying them just because they want more space for beach supplies, camping supplies, etc. Which means not every consideration concerns towing, and a truck needs to be able to satisfy a variety of consumer needs and preferences.
Sadly, the 2017 Nissan Titan with a single 5.6-liter V8 engine option is unable to do that. Granted, it is slated to get a V6 engine later this year, which would help with fuel-efficiency, but not the towing capacity. Considering the V8 engine produces 390 horsepower/394 lb.-ft. of torque and can only give the Titan a max towing capacity of 9,390 pounds when properly equipped, that poses a problem when going up against Chevrolet's Silverado, boasting three engine options, better fuel-efficiency, and better towing capacity.
The standard 4.3-liter V6 engine found on the Silverado produces 285 horsepower and a best-in-class standard V6 305 lb.-ft. of torque, while still providing 18 mpg city/24 mpg highway – already better fuel-efficiency than the Titan's 5.6-liter V8.
The comparable engine would be the Silverado's 5.3-liter V8, producing 355 horsepower/383 lb.-ft. of torque, able to tow 11,100 pounds, and returning a best-in-class V8 fuel-efficiency rating of 16 mpg city/23 mpg highway. So even with a comparable engine equipped, the Silverado can tow more and still gets better fuel-efficiency.
If you do need to tow heavier loads, then a 6.2-liter V8 engine is available on the Silverado, producing 420 horsepower/460 lb.-ft. of torque, while returning up to 15 mpg city/21 mpg highway. All of which is served up alongside a best-in-class V8's 12,500 pound towing capacity.
When it comes to versatility, towing, and fuel-efficiency, the 2017 Nissan Titan just can't compete with the 2017 Chevrolet Silverado.
Warranty/Complete Car Care
The complete car care that Chevrolet offers on its new vehicles has always been something to brag about. When compared to the competition, that fact remains true going into 2017 as well. Especially since this day-and-age, warranties and complete car care has turned into something much more than just bragging rights, or a quick way for a manufacturer to suck the consumer in. With the increasing concern on the subject of safety for consumers, it's not surprising that the warranty and complete car care game has been upped.
For some, the right warranty and built-in maintenance programs are more important than the actual safety of the truck. Why? Simply because trucks are used for work, and consumers want to make sure their vehicles will be covered from head-to-toe if something happens.
Which truck covers more: the 2017 Chevy Silverado, or the 2017 Nissan Titan?
Chevrolet:
Included Scheduled Maintenance: 2 visits
Bumper-to-Bumper: 3 years/36,000 miles
Powertrain: 5 years/60,000 miles
Anti-Corrosion: 6 years/100,000 miles
Nissan:
Included Scheduled Maintenance: N/A
Bumper-to-Bumper: 3 years/36,000 miles
Powertrain: 5 years/60,000 miles
Anti-Corrosion: 5 years/Unlimited miles
It's a close call, but when things get gritty, the Silverado is the better choice if you care about manufacturer-backed protection.
With the scheduled maintenance program, Chevrolet customers get their first two maintenance visits for their Silverado free. What do these two visits consist of? Well, for one, you'll get your tires rotated for free. Secondly, you'll get two free oil and oil filter changes. These aren't cheap, and can cost (more or less) around $30 depending on where you go. This all happens in the first 24 months/24,000 miles of ownership. Given that you're supposed to change your oil every 3,000 miles, you'll certainly do so within that 24 months/24,000 miles time frame, anyway. That's around $200 saved just for keeping up with routine maintenance on your new 2017 Silverado. Pretty cool, huh? For the 2017 Titan, Nissan missed the mark.
Bumper-to-bumper and powertrain warranties are similar, but Silverado has a one-up on the Titan when it comes to anti-corrosion protection as well. For Chevrolet, the 6 years/100,000 miles of anti corrosion protection is more than enough time and distance to reveal any issues with corrosion or rust-through. Even if the Silverado is the longest lasting pickup truck on the market, it's still nice to have this coverage.
What's does Nissan offer for rust-through on the Titan? 5 years and unlimited miles. Considering the average consumer puts 15,000 miles a year on his or her vehicle (a truck used for working will accumulate much more), the mileage will run out far faster than the amount of years. Chevrolet provides you with coverage for a year longer than Nissan would. Considering the nature of the consumer who buys a truck, that extra year will mean a lot more to you compared to the unlimited miles Nissan offers.
With protection and complete car care, there's no doubt about it: the 2017 Silverado is the way to go.
We appreciate your interest in our inventory, and apologize we do not have model details displaying on the website at this time. Please fill the form out below and our team will quickly respond, or, please call us at (630) 246-4639 for more information.