2018 Chevy Bolt – Naperville, IL
You've heard the buzz, and rightfully so. The 2018 Chevy Bolt in Naperville, IL, is a vehicle that's been pulling attention away from the rest of the EV market since whispers of it first started spreading. It all started with its mileage, which rivals that of even the most prestigious Tesla model, but, at a fraction of the price that a Tesla would cost. After the car's information had been fully released on the dealership website, it gained even more attention thanks to the EV (electric vehicle) specific technology it has on board, as well as the abundance of safety features that are available.
Topping it all off, the Bolt was named Motor Trend's 2017 Car of the Year for its overall great quality and impressive performance, as well as the 2017 North American Car of the Year, and the 2017 Green Car of the Year by Green Car Journal. Considering it won three prestigious awards upon its release date, it's safe to say this is a vehicle that's truly reinvented the electric vehicle segment.
238 Miles
EV Driving Range
8-year/100,000 mile
Battery Warranty
Performance
When it comes to the performance of the all-new 2018 Chevy Bolt, it's assessed a little differently compared to a gas-powered vehicle. Since the Bolt EV is a purely electric model, the electric motor is the star of the show, which gets its power from the battery. Finally, EPA estimates aren't in mpg. Rather, they are measured by all-electric driving range.
Electric Motor
With the Bolt EV, the electric motor puts out 200 horsepower and 266 lb.-ft. of torque – a decent amount of horsepower and torque for a straight EV. More importantly, the torque on an electric vehicle is accessed instantly when you step on the gas pedal. There's no hang-time like on a gas-powered or diesel-powered vehicle. Because of this, you'll get moving much quicker. How much quicker, you ask? Well, consider this: the Bolt EV can do a 0-60 mph sprint in less than 6.5-seconds. Which is very fast for this segment, and even when compared to other conventional automobiles of this caliber. Not to mention, the Bolt EV is able to reach a maximum speed of 91 mph. I think that last number speaks for itself, considering that 91 mph is coming from an electric vehicle.
Battery
If the electric motor is the powerhouse of the vehicle, then the battery is the heart. Without the battery, the Bolt EV wouldn't be able to perform like this.
Therefore, the Bolt offers nothing but the best. The best being a nickel-rich lithium-ion battery, which gives it the power to not only perform above and beyond your expectations, but also let the Bolt EV last for a long time on the road. It all starts with the battery chemistry, which increases heat resistance. Since batteries get warm when they're in use, this increased heat resistance allows it to tolerate more heat before using extra power (power that would otherwise be taken away from driving range) to cool it down. An active thermal management system is also in place, which helps regulate the battery temperature in hot and cold weather conditions.
It also has a 100,000 mile/8-year warranty on the battery. So if something does go wrong, you're covered.
Driving Range
The driving range of the Bolt EV is directly determined by the amount of power the battery can hold. Since the battery has a 60 kWh energy capacity, you can expect an estimated 238 miles of all-electric driving range on a full charge. That's double the driving range of many similarly priced electric vehicles, with the Bolt's Starting MSRP coming in at $37,495 ($29,995 after federal tax credit). Those other models include vehicles, such as the Nissan Leaf 2.0 (just breaking 200 mile driving range), Volkswagen e-Golf (186 mile driving range), and the Tesla Model 3 (215 mile driving range).
There's no doubt about it: the Bolt EV is the next electric car to watch for this year.
EV Tech
It's not just the engine and battery that's impressive: the 2018 Chevy Bolt EV is also loaded with plenty of electric-vehicle tech to keep you on top of the vehicle's overall performance, and to make living with an EV even easier.
One-Pedal Driving
When driving an electric vehicle, typically you lose on power while slowing down. But, this feature allows you to transfer that otherwise lost energy right back to the battery. When driving in Low mode at any speed, this feature allows the Bolt EV to slow down — or come to a complete stop — simply by taking your foot off the accelerator.
The result is using your brakes less, which increases your driving range.
Electronic Precision Shift
With the electronic precision shift, you're able to easily and electronically select gears to help promote smoother shifting. Not only is it more convenient because you don't actually have to man-handle a giant stick shift in front of the center-stack, it actually helps open up the Bolt EV's passenger space, which is a massive 94.4 cu. ft. with seating for five people. Cargo volume is above average, and comes in at 16.9 cu. ft.
DC Fast Charging
The standard charging option at home for the Bolt EV is an available 240-volt/32-amp charging unit, which provides you with about 25 miles of driving range for every hour it charges, with the higher-voltage system offering up to 25 miles of range per hour charged.
But, you'll be happy to know the Bolt EV is also compatible with DC Fast Charging stations: stations that are available for public use, providing you with 90 miles of range in about 30 minutes of charge time. Those stations can be found by using the ChargePoint card in your glove box. All you have to do is scan, swipe, and charge. If you want to make your life even easier, download the free ChargePoint mobile app to find stations and check the availability. It's possible to even reserve your charge time.
Whether at home or on the road, you'll be able to charge your Bolt EV without any trouble at all.
8" Diagonal Driver Information Center
The EV tech also spreads to the inside of the cabin, where an 8-inch Diagonal Driver Information Center is able to give you detailed information about your vehicle at a quick glance. And all with a layout that is completely customizable, by the way. You're able to choose what type of data is displayed based on your personal preference.
On the Energy Details screen, you'll see things like a break-down on the percent of the energy you used while driving, which also factors in the energy used from climate controls and battery conditioning.
On the Energy History page, you'll be able to see how your total energy is being used, which comes in the form of a bar graph. This bar graph displays energy efficiency in five-mile intervals for the last 50 miles that were driven.
On the Energy Usage Score page, you'll be able to look at factors that influence energy consumption, such as driving technique, terrain, climate settings, and outside temperatures – all displayed as an index score.
With all this information at your fingertips, you'll be able to not only monitor your energy consumption, but also work on improving it.
Safety
It's time to drop the misconception that hybrid and electric vehicles are not safe. For Chevy models this simply isn't true. The Bolt EV has just as many safety features as the gas-powered models in the lineup. I'm not talking about the high-number of airbags (10) or the advanced high-strength steel frame found across all Chevrolet models, either. I'm talking about the advanced safety technology.
The Bolt EV can be equipped with features like lane departure warning, forward collision alert, side blind zone alert, rear cross traffic alert, surround vision, and a rear camera mirror. All of which are safety features that are found on other gas-powered models, which are in place to help prevent and avoid a collision entirely.
Furthermore, the OnStar Automatic Crash Response system is also available. This is a system where an OnStar Advisor will contact you if the system's sensors detect a collision. Advisors can send help to your location if you need it (or don't respond), by providing emergency services with your location.
Chevy's Bolt EV has all the same safety features as the other models and, while it hasn't undergone government safety tests, it's safe to assume the Bolt EV will score high marks when it does.
We appreciate your interest in our inventory, and apologize we do not have model details displaying on the website at this time. Please fill the form out below and our team will quickly respond, or, please call us at (630) 246-4639 for more information.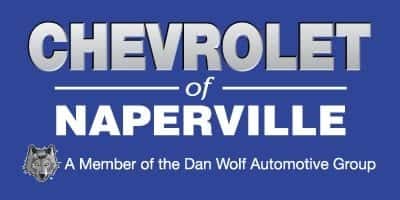 Chevrolet of Naperville: Community Driven
Chevrolet of Naperville has always been a community driven dealership. Over the years, we've found ways to give back to our customers and community besides just selling high-quality new Chevrolet vehicles. At the heart of that community commitment is our Turning Pointe Autism Foundation, which was founded in 2007 to help support families manage the challenges that comes with raising an autistic child. How? Our foundation opened the CN Day School in 2011 to give autistic children better educational opportunities, tailored to their unique needs and abilities, and we further expanded that in 2012 with the Turning Pointe Career College.
Yes, we are a car dealership at our core. But, we also make sure to put consumer wants and needs first. By selling high-quality vehicles at great prices, providing exceptional mechanical work, and giving back to our community that we're proud to be a part of in Naperville, IL.