How Long Does It Take to Charge a Chevy Volt?

Everyone knows the Chevrolet Volt can keep moving for days or weeks at a time without needing a top-up, but how long does it take to charge a Chevy Volt? And how long can the Chevrolet Volt go with a full charge? Well, that depends largely on how you're going about it, since you can use a 240-volt Chevrolet Volt charger, a standard electric car charger, or an AeroVironment Level 2 32 amp EVSE-RS.
How Long It Takes to Charge Your Chevy Volt?
Charging with the 240-Volt Charging Unit: With the available professionally installed 240-volt Chevy Volt charging unit, you can bring the battery from flat to full in just 4.5 hours.
Charging with the Standard Electric Car Charger: Use the 120-volt portable charge cord included with every new Chevy Bolt to charge the battery in approximately 13 hours. So how far can the Chevrolet Volt go? All you need to do is plug the cord of your Chevy Volt charger into a regular wall outlet to add about 4 miles of Range Per Hour.
Charging with the AeroVironment Level 2, 32 amp EVSE-RS: Choose professional installation and use your 25-foot cord to reliably charge your Volt up to 2.5 times faster than with traditional cord sets.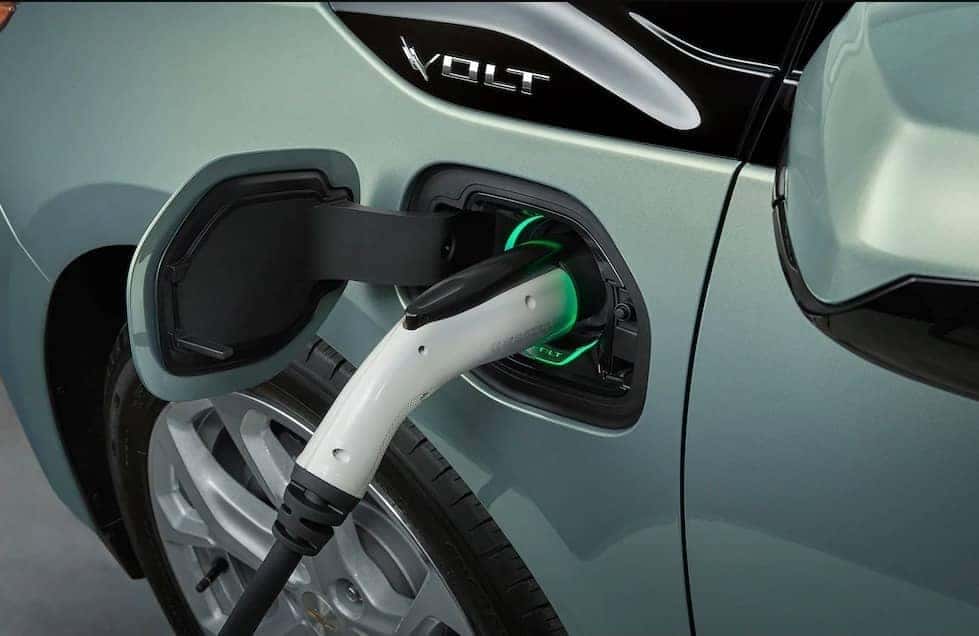 Whether you want to travel around Naperville or head from Bolingbrook to Aurora, the Chevy Volt offers the all-electric range and available 420-mile total range you need.
How Far Can the Chevy Volt Go?
So how far can the Chevrolet Volt go? The new Volt is one of the most efficient plug-in hybrids around, offering:
1,100 miles between fill-ups when you charge it regularly.
Up to 53-mile battery range to more than cover the 40-mile round trip of an average daily commute.
Up to 420 miles of total range with a full charge.
When you go over the 53-mile battery-only range, your Volt will intuitively and seamlessly switch over to use gas.
Contact Us Today to Find Out More About Charging the Chevy Volt
So, how long does it take to charge a Chevy Volt and how long can the Chevrolet Volt go? Not very long, as it turns out! The Volt brings state-of-the-art hybrid technology to your daily drive, and you'll find the latest model available now at Chevrolet Of Naperville. To find out more about the Chevrolet Volt charge time or arrange a test drive, contact us today. You can also compare the Bolt to the Chevy Bolt EV or check out Chevy Trax reviews.
More from Chevrolet Of Naperville
Looking for a compact SUV with the precise handling you need for your downtown Aurora drives? With its easy maneuverability and a tight turning radius, the Chevy Trax keeps you in control no matter what the traffic report says. On top of that, it comes with a generous number of standard infotainment features to keep…

The 2021 Chevrolet Trax takes what so many Naperville drivers already loved about this vehicle and makes it even better. The latest improvements to Chevy's standout subcompact SUV are no more apparent than on the 2021 Chevrolet Trax interior, which is full of exciting technologies and designed for optimal comfort. Chevrolet Of Naperville peeps inside the Chevrolet…

If you're ready to upgrade your Aurora ride with a rough and ready pickup along with a versatile cabin, then the 2021 Chevy Silverado interior is sure to impress. With expanded interior seating and cargo specifications to improved technology features, you'll have everything you need in your next Chevy. Discover all you'll find in the…