Used Chevy Cruze
The Chevrolet Cruze has been an important part of the bowtie brand lineup from the day it was introduced back in 2008. The nameplate has been sold globally ever since and offers a new take on the compact four-door sedan segment. With the introduction of the Cruze Hatchback for the 2011 model year, the Chevy Cruze has become one of the most popular and versatile compacts on the market. The Cruze name was once used on a different General Motors model from the years 2001-2008. This subcompact Suzuki model was nothing like the Chevy Cruze we all know and love today, but it has been the source of quite a bit of confusion surrounding the Cruze nameplate. Despite this mix up, the current Chevy Cruze continues to be one of the most popular models in its segment. Along with being popular among new car shoppers, buyers are flocking to dealerships in order to purchase a used Chevy Cruze model, particularly those from the car's second generation.
The first generation of the current Chevy Cruze model started when the model was introduced in 2008, and wrapped up prior to the introduction of the 2016 Cruze. That first generation was certainly an important one for the compact car, as it was within that time period that the hatchback version of the Cruze was also introduced. As much as that first generation provided us with, it is the car's second generation that has become a popular choice for used car shoppers in the Chicagoland area. Chevrolet of Naperville is constantly selling out of these used 2016 and 2017 Chevrolet Cruze sedans and hatchbacks, and for plenty of good reasons. Explore each one of these incredibly successful model years of the Cruze, and why buyers are lining up in order to purchase their very own pre-owned version.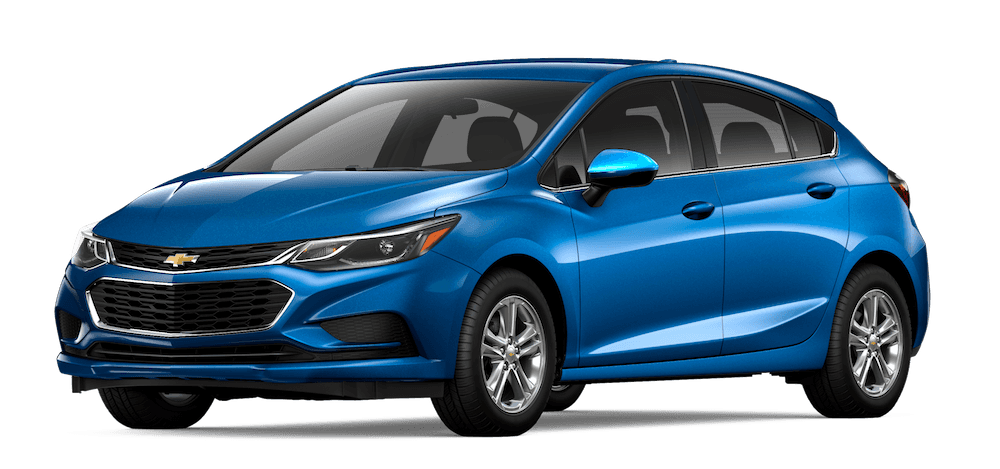 2016 Chevy Cruze
After eight long years on the market, it was finally the Chevy Cruze's turn for a complete and total redesign. The compact car had shared plenty of success throughout those initial years, but with in-vehicle technology improving, and advanced safety features constantly being released, General Motors and Chevrolet recognized that it was time for the Cruze to really shine. There was plenty that was added, and subtracted, in order to make the 2016 Cruze the incredible completely new model that it was. Shedding over 250 pounds from the outgoing model year, the 2016 Cruze not only promises increased agility on the road, but also phenomenally improved fuel efficiency. The redesigned shape of the Cruze also added to both of those newly enhanced features, which also worked to improve the aerodynamics of the sedan.
The redesign didn't just account for a hefty weight loss for the 2016 Cruze, it also brought the car down lower to the ground, and made it nearly 3-inches longer than it was in year's past. Those few extra inches to the length of the Cruze gave backseat passengers added legroom, and the ability to stretch out quite a bit more than the 2015 allowed. The 2016 Chevy Cruze wowed new buyers, and continues to impress used car shoppers with an EPA-estimated fuel economy of up to 42 miles per gallon on the highway. With some hybrid vehicles unable to reach such high efficiency ratings, the new Cruze's 42 MPG rating was above and beyond impressive.
Because of the new technology and widespread availability of safety features on the market, Chevrolet added ten airbags, all-disc brakes, and a rearview camera as standard on all 2016 Cruze models. A turbocharged 1.4-liter direct-injection 4-cylinder engine was offered for the first time on the 2016 Cruze, and boasted 153 horsepower rating and 177 lb.-ft. of torque. Drivers were able to opt for either a six-speed manual or six-speed automatic transmission, which means that there are a healthy amount of options out there on the used market. Aside from gaining a new powertrain and safety features, the 2016 Cruze was the first Chevrolet model to offer Android Auto and Apple CarPlay compatibility, along with the next-generation of Chevy MyLink infotainment system with smartphone connectivity and a standard 7-inch screen display. OnStar 4G LTE with on-board built in Wi-Fi connectivity was also available on the 2016 Cruze, which makes it an even more popular choice for used car shoppers today.
Brand new 2016 Cruze models started at $17,495, with the Premier model topping the lineup at a starting MSRP of just $23,995. With such a low starting price for brand new models, used car shoppers operating on a tighter budget should be able to find 2016 Cruze models for much, much cheaper.

2017 Chevy Cruze
The newest available pre-owned second generation Chevy Cruze is represented by the 2017 model year. While the overall model did not receive any substantial changes or upgrades, Chevrolet did resurrect the hatchback variant of the Cruze in 2017. Known simply as the Cruze Hatch, this is the first time that the five-door version of the compact car was offered to buyers in the United States. For that reason alone, shoppers flocked to dealerships, and are loving everything that the Cruze Hatch has to offer. Despite the fact that the 2017 Cruze is still the latest model year of the sedan and hatchback, it is already making its way onto used dealership lots. With a starting MSRP of under $17,000 new, used car buyers will have no issue finding a like-new pre-owned version of the 2017 Cruze sedan or hatchback for well under that starting price tag.
The 2017 Cruze offers a fuel economy rating of up to 40 miles per gallon, and all of the tech-features that newer car shoppers are looking for in their connected compact cars. The same new turbocharged engine that was introduced for the 2016 model year still sits underneath the hood of the 2017 Cruze, and for good reason. This capable powertrain not only delivers exceptional performance and fuel economy, it appeases drivers who are looking for both agility and efficiency.
The 2017 Cruze sedan offers a trunk capable of holding up to 13.7 cubic-feet of cargo, while the hatchback can transform into a spacious cargo hold of 47.2 cubic-feet of space with the seats folded down. With the seats up, the Cruze Hatch can still manage a respectable 23.7 cubic-feet of space, nearly double that of the sedan.
Simply put, the 2017 Cruze offers something for everyone. Whether you need a simple family sedan, or a practical hatch with plenty of room for equipment – this is the used car you should have your sights set on. With more like-new Chevy Cruze models coming in to used car dealerships each and everyday, there has never been a better time to explore the possibility of driving home your very own, new-to-you 2017 Chevy Cruze.
We appreciate your interest in our inventory, and apologize we do not have model details displaying on the website at this time. Please fill the form out below and our team will quickly respond, or, please call us at (630) 246-4639 for more information.



Test Drive the Cruze at Chevy of Naperville
Here at Chevrolet of Naperville, we have a great selection of high quality used 2016 and 2017 Cruze sedans and hatchbacks. With plenty of options to choose from, our team will walk you through our versatile inventory of pre-owned vehicles, helping you choose the one that is right for you. Our dealership is conveniently located just 30 miles west of downtown Chicago, and just minutes off of I-88. Come down to Chevrolet of Naperville Used, and check out our selection of great used and Certified Pre-Owned Chevy Cruze models ready for you to drive home today. We can't wait to meet you, answer your questions, and show you around our award-winning used car dealership here in Naperville, Illinois.