Chevy Upgrades Program Arrives in Naperville

Are you ready to upgrade to something better? If you're ready to enjoy the latest technology, better fuel economy, and have the peace of mind that comes with a new vehicle, check out the new Chevy dealer incentive program available at Naperville Chevrolet. Get behind the wheel of a brand-new Chevrolet from our comprehensive inventory.
How Does the Program Work?
When you bring your old vehicle in for service, simply ask for a no-obligation evaluation to see if you qualify for an upgrade. One of our associates will inspect your current vehicle – it only takes 15-20 minutes. If your vehicle meets our requirements, we'll make an offer to purchase your car for above market value.
While you're waiting, you can check out the new vehicles we have in stock, learn about the latest features and take a test-drive. If you decide to buy, you'll get access to industry-leading finance terms including:
Reduced Interest Rates
Comprehensive Warranty Coverage
Lower Monthly Payments
Extended New Vehicle Protection
And, if you make the trade within 30 days of your service call, we'll even refund the full price of your current vehicle service – up to $750.00 – just for upgrading with us.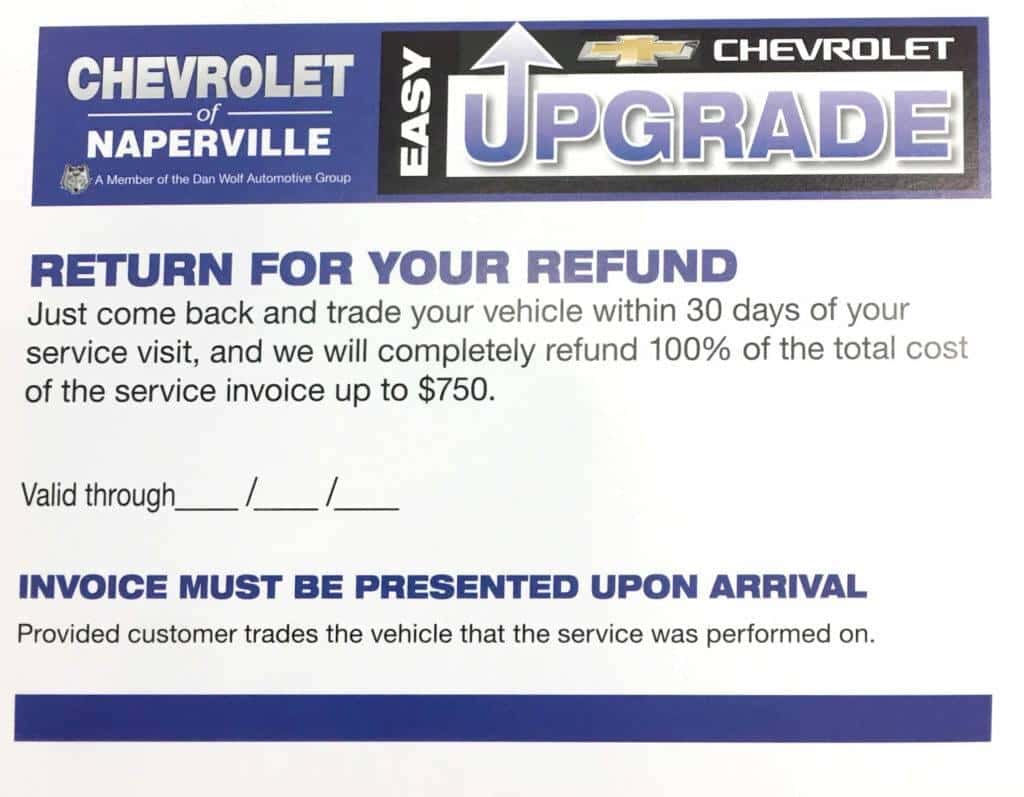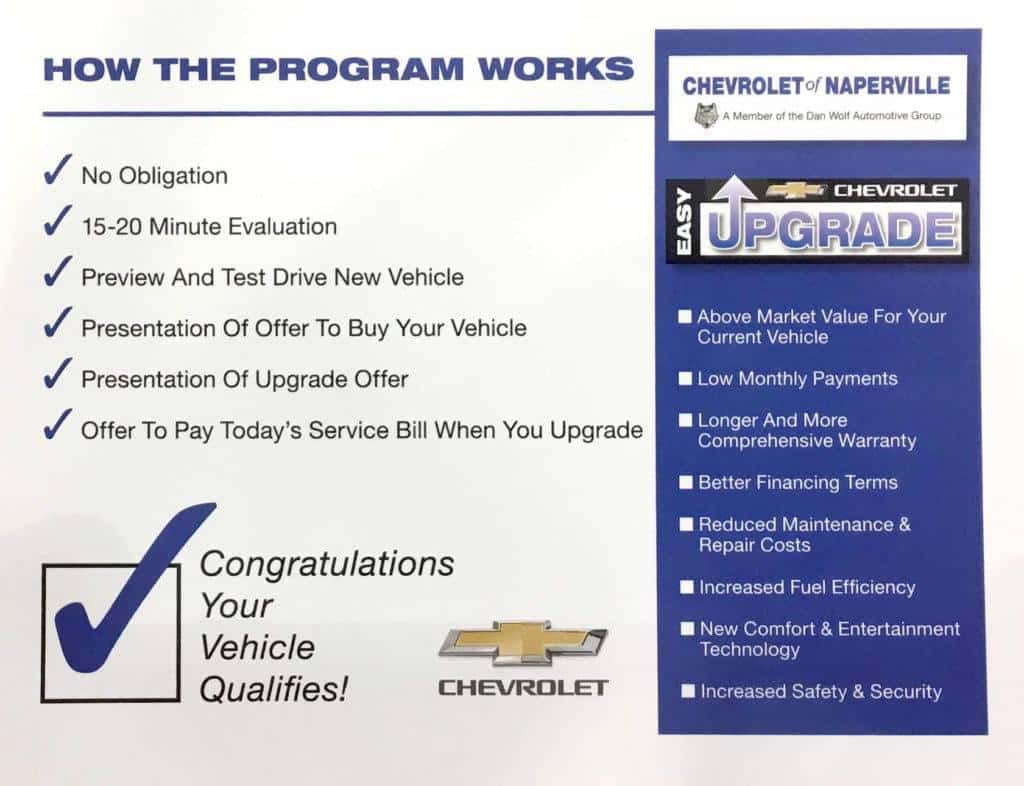 What are Your Looking for in Your Next Car?
Getting into a new car is about more than just adding style to your driveway. Today's new Chevrolet vehicles give drivers unprecedented features that make the daily drive more entertaining, safer, and more productive. Depending on the vehicle and trim you choose, you can select exciting features like:
Satellite Radio
Music Streaming
Hands-free calling
Wi-Fi Connectivity
Teen Driver Systems
Smartphone pairing
Better Fuel Economy
Upgraded Materials
Automatic Climate Control
Hybrid and Electric Technology
OnStar Concierge and Emergency Assistance
And that's just the tip of the iceberg. Speak to an associate about the amenities available on the new Chevy vehicle of your choice and see what an upgrade can do for your daily drive.
Talk to Wayne

Talk to Wayne About the Chevrolet Dealer Incentives at Naperville Chevrolet and see how much you can get for less. Contact us at (630) 357-6100 or stop by our showroom at 1515 W. Ogden Avenue in Naperville to learn more.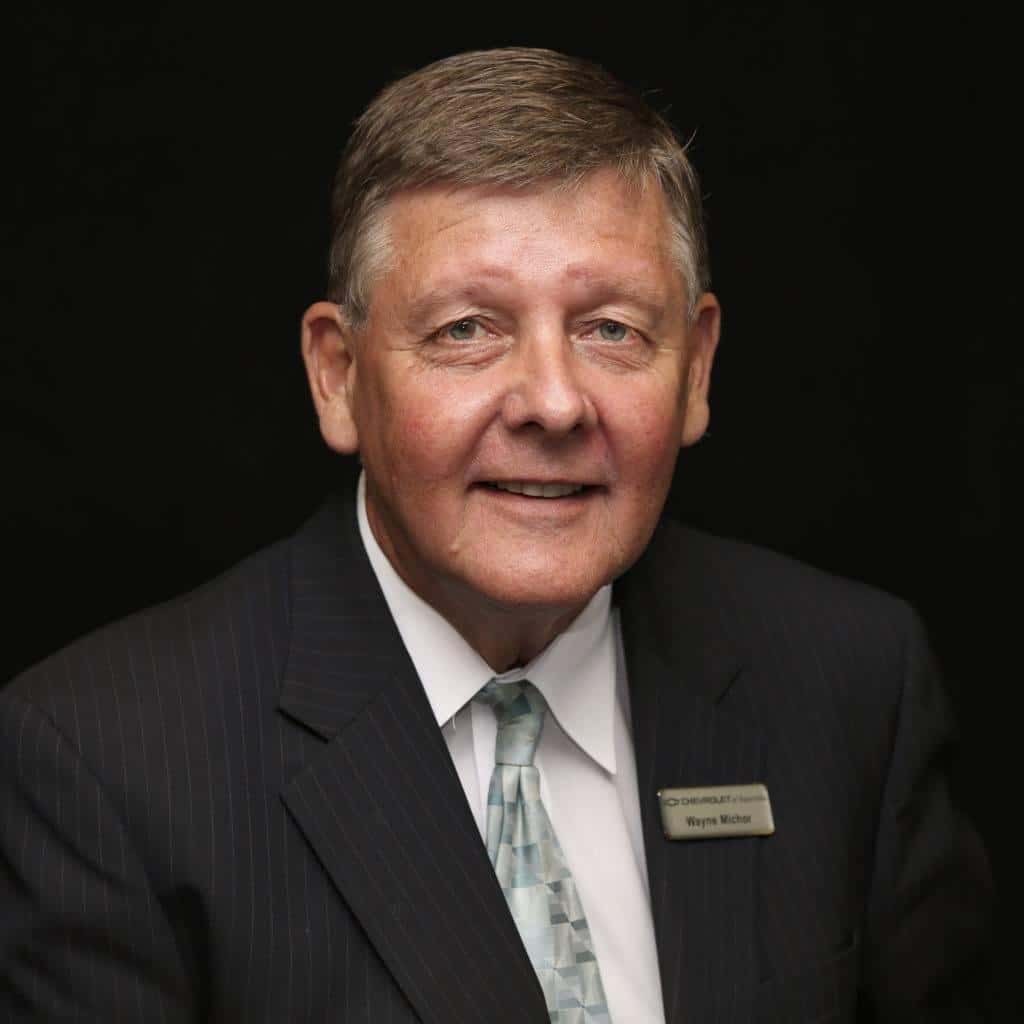 Wayne Michor
Phone: (630) 615-4547